Team News
Connico's Co-Pilot Program Takes Mentorship to New Heights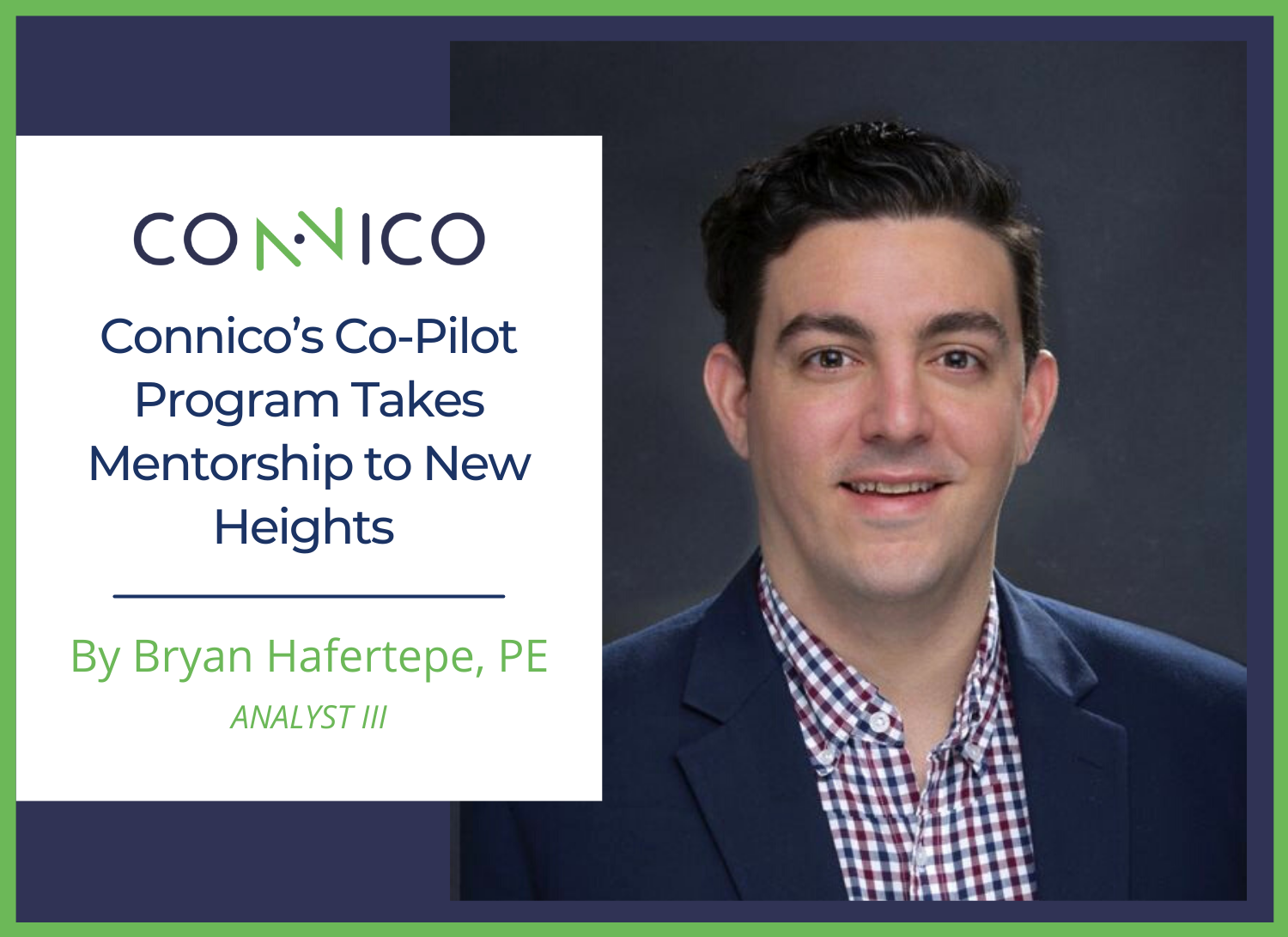 When Connico Co-op Veronica Takacs interviewed for her position, she was a sophomore civil engineering student with little professional experience. During her interview, she asked a very important question: How does Connico train its young professionals? In addition to being impressed by the nineteen-year-old's ambition, I was also grateful to have a coherent answer prepared. At Connico, we developed the Co-Pilot program to train new team members across all experience levels to be successful in their roles.
What is the Co-Pilot program?
The Co-Pilot program is a mentorship initiative that is the cornerstone of our larger training and holistic human resources program. When we developed "Takeoff" four years ago, I had been with Connico for roughly 14 months. My first year at Connico had been fantastic - the professional and networking experiences were varied, and I was able to work on estimating, planning, sustainability and more at almost 60 different airports from Florida to California. Although we had existing training programs, there was not a cohesive thread between them. We designed the Takeoff program to unite Connico's existing processes. We also created new programs, such as The Co-Pilot program, which was designed to ensure that every new employee at Connico is afforded the same fantastic training experience I enjoyed.
How does the Co-Pilot program work?
At Connico, every new employee is assigned a Co-Pilot, or mentor, regardless of whether the new employee has years of experience or is a sophomore engineering student on their first day in a professional setting. For a new hire who is a co-op student or recently graduated, the program uses discussion and planning for experiential learning, career goals, skill development and networking opportunities to guide the employee through their first year of employment. Veronica, who is now a junior and in her second semester working with us, was able to gain valuable one-on-one guidance and instruction, a complete look at what full employment entails and an example of how to interact with clients through her Co-Pilot experience.

Why is the Co-Pilot program important?
From Connico's perspective, having one person accountable for the training process for a new hire allows us to fully coordinate early cross-training of all employees. This cross-training give us the ability to evaluate our employees' strengths and growth areas, and it gives the employee a chance to determine which kinds of work they enjoy and are passionate about. We strive to ensure that whether an employee is on our team for two years or twenty, they become more skillful, experienced and well-rounded individuals.
To learn more about open positions on our team, please apply at https://connico.com/careers or email hr@connico.com.
Bryan A. Hafertepe, PE, is an Analyst III at Connico. He is an experienced professional engineer with a background in developing cost estimates, value integration, systems analyses, and field observation. Contact him at bahafertepe@connico.com.