Insights
Post-COVID Materials Market Expectations: Our Senior Cost Specialist Shares His Observations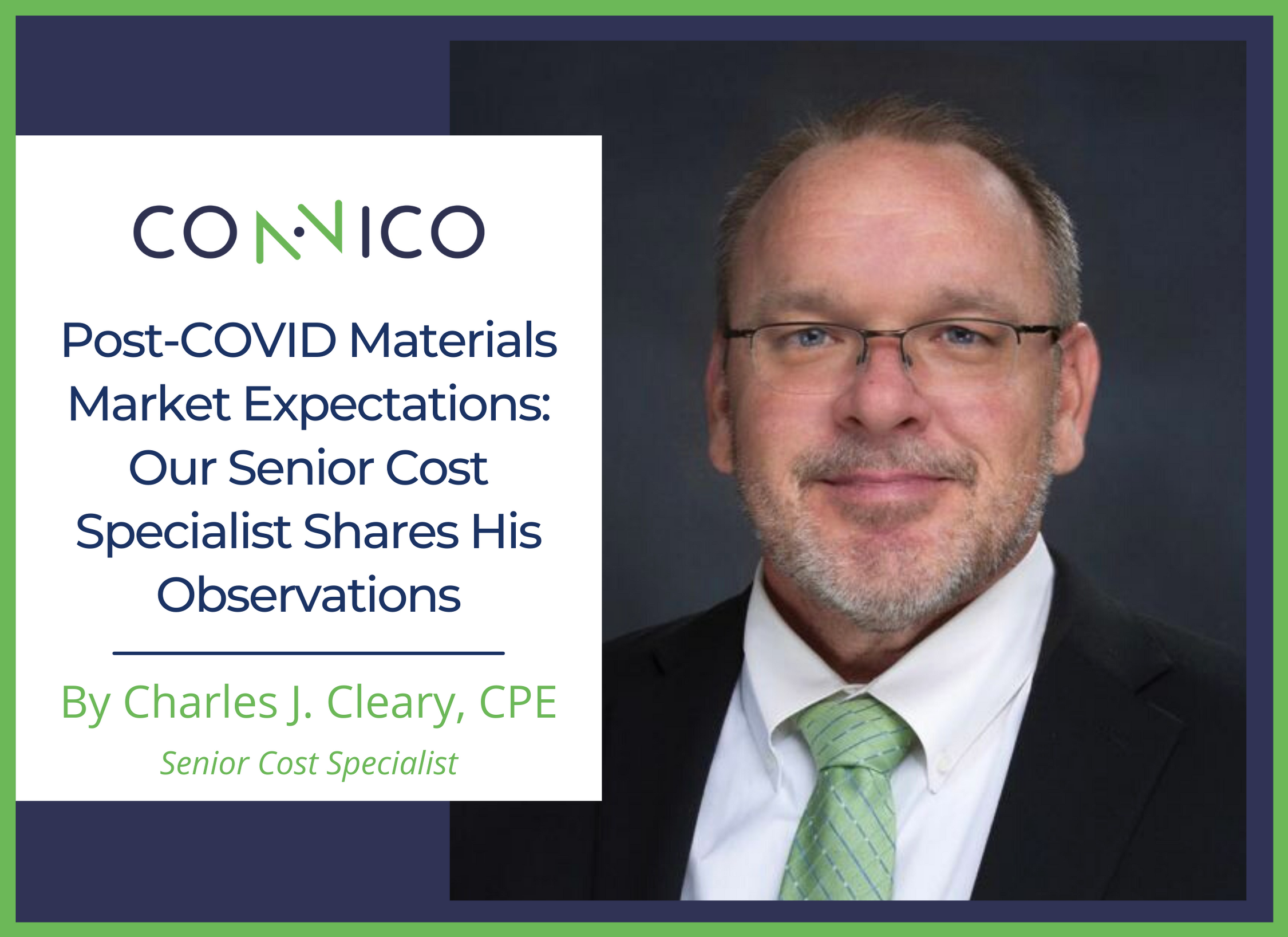 When providing cost estimates, it is common for Connico to include a line item for escalation, which is represented as a percentage. Escalation is the change in the cost or price of specific goods or services, in any given economy, over a period of time. Connico's cost escalation model is a product of extensive research and is updated regularly to keep pace with the changing economy.
Lately, we have seen extraordinary cost increases on building materials, such as wood, metal, rebar, and concrete, that have affected overall project budgets. There have also been significant increases in copper and petroleum-based products affecting asphalt, insulation, roofing materials and delivery costs.
Although we typically prepare for general escalation, these increases are outpacing our standard escalation models and causing concerns for owners. Costs can fluctuate for a variety of reasons, including supply and demand, tariffs, distribution, speculation, politics, and the strength of the dollar.
We should keep in mind that we are emerging from a global crisis. The construction industry lost 975,000 jobs in April 2020 due to the pandemic. Manufacturers laid off employees due to stay at home orders, international shipments of materials have been constrained by shipping container shortages and bottlenecks getting the containers offloaded at the nation's ports. Additionally, trucking costs have tripled due to the lack of drivers and rising fuel costs.
Demand for these products and materials remains high. As the world begins to recover from the pandemic, construction projects that were delayed are now active again, furthering the demand for supplies. However, it is not all bad news.
While fuel pricing and copper materials appear to be on an upward trajectory for the foreseeable future, lumber and steel have leveled out or begun to decrease. The price of structural steel members is still a wildcard due to manufacturing issues like labor and supply chain in the steel factories. There has been a recent decline in the cost of raw lumber, steel, and other commodities, which should work its way into the marketplace in the next 2-3 months and affect the pricing submitted by contractors.
With these points in mind, now is the time to place value on your partnerships. We offer our best-informed judgment and predictions based on the information available to us and our experience after working in the industry for over 30 years. We recommend bringing in cost consultancy at the beginning of your project so that you are equipped with the best decision-making tools to ensure a smooth project from start to finish.
Charles J. Cleary, CPE, is a Senior Cost Specialist at Connico. He is an experienced electrical cost estimator with a background in transportation, industrial, residential, and commercial construction. Contact him at cjcleary@connico.com.