Insights
Just one more meeting could save your project! Here's how to make the prework meeting work for you.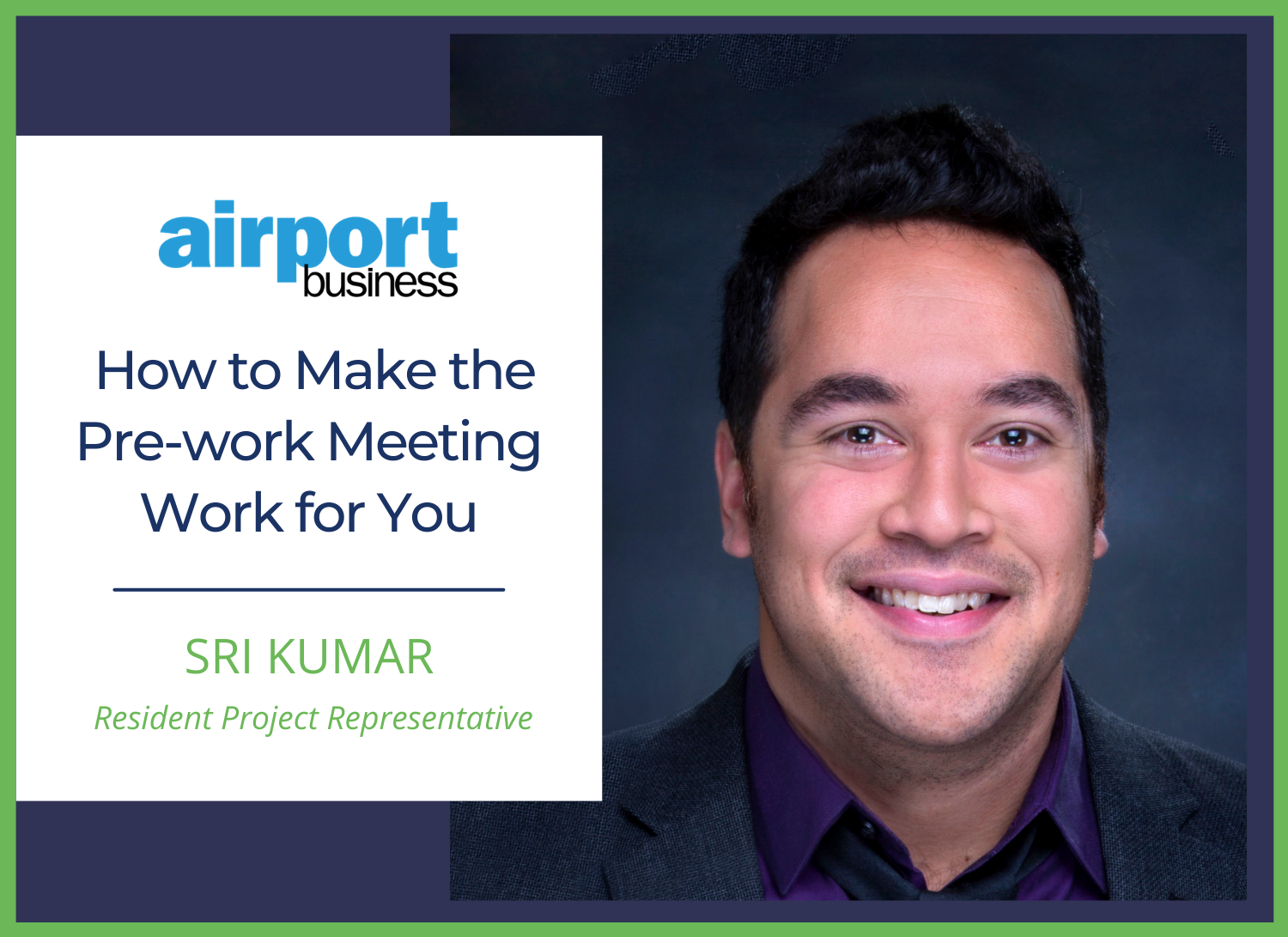 Are you the type of person that loves meetings? Do you wish there were more meetings in your day? Me neither. However, there's one meeting that can actually lower costs and reduce delays on your next airfield project. It's called the prework meeting, and it's designed to set expectations for your final product – before any work begins.
In the FAA's Advisory Circulars (ACs, or simply "Circulars"), the 150/5370-2H "Operational Safety" and 150/5370-10H "Standard Specifications" ("10H") are the basis for airport construction. Although they detail prebid and preconstruction meetings before construction begins, neither of these meetings are specific to individual work activities. That's where prework meetings come in. Here's one way to think about it: the Circular tells us what the final product should be (subgrade free of ruts, concrete free of blemishes), but the prework meeting give us the details on how to get there!
The goal of the prework meeting is to set expectations so that everyone is on the same page before the work commences. As cost estimators, our goal is to help ensure projects are completed on time and on budget. We know that the power of a good prework meeting can be measured in cost savings and efficiencies that can't be realized once work is complete.
An individual prework meeting should happen for every major scheduled work activity, such as asphalt or concrete paving, drainage system installation, airfield electrical work, or airfield markings. You can combine work types where it makes sense: for example, P-152 subgrade and P-209 aggregate base require similar equipment types to execute, occur at similar times during the project, and have similar testing requirements. Depending on the scale of your job, you can elect to have meetings for other work items as you see fit.
Why Owners & Forepersons – Among Others – Must Attend Prework Meetings
Any prework meeting must be attended by the project's Resident Project Representative (RPR), who will help ensure all parties leave the meeting with clear expectations. Along with the RPR, the meeting must also include the owner. Airports often operate on nuances in their policies or preferences that aren't formally noted when the contract documents are assembled. Owner attendance is critical to ensure special considerations are accounted for when planning major work activities.
The contractor's team, including the superintendent and project manager, must attend the prework meeting, but it's vital the forepersons for the crew that will physically be performing the work are also present. The attendance of the actual crew is crucial to ensure the messages conveyed at this meeting are shared with the people responsible for executing.
The prework meeting for each activity should take place well in advance of the respective work. This gives the team a chance to make any changes or adjustments that result from learnings at the meeting. The first step at the meeting is to review the work scope.
This may seem straightforward – after all, we have the plans. However, if an RFI or change order alters the original work scope, the plans are adjusted accordingly. This is the time to make sure everyone is on the same sheet of music. And even if the scope is clearly defined, the meeting can review that the sequence of execution considers the airport's needs.
What Prework Meetings Should Cover
In addition to project plans, prework meetings should include submittals and materials. Check to confirm all materials have been approved for the work. A good example of the importance of this: there could be separate mix design requirements for P-401 base asphalt and P-401 surface asphalt, and either could have multiple mix designs! Have all appurtenances for the work been approved? (gaskets for concrete pipe, dowels, and epoxy for concrete, etc.) Know when materials will arrive and where they'll be stored to preserve their integrity until installation.
According to 10H, the contractor has sole control over "means, methods, techniques, sequences, or procedures of construction." This means the contractor should cover the following topics in-depth:
Site prep: How will the work site be prepared in advance of the main work activity? (demolition before new paving, surface preparation before marking, grading before topsoil placement, etc.)
Equipment used: Be sure to get specific about types, sizes, or number of pieces: for example, maximum placement times for P-501 are different depending on the type of truck used) What's the contingency plan if a key piece breaks down?
Construction methods: The AC explicitly prohibits some methods for certain materials, but others are up to the contractor and need to be understood: what will the asphalt rolling pattern be, or how will backfill in utility trenches be compacted? The construction method can impact the quality, which can put payment at risk.
Contingency plan: If we get hit with unexpected weather, or the batch plant breaks down before we can turn over an active aircraft surface, what do we do?
Why QA & QC Teams Must Be Familiar with Every Test Result
The QA and QC teams must also be in attendance and are the cornerstone of the event. The quality assurance criteria outlined in the spec often forms the basis of payment for work – the contractor has dollars riding directly on how well tests are executed and how the results come back, so QC and QA need to be intimately familiar with every test. Review who is responsible for which tests and how communication will occur for passing or failing results. Have a plan for how results will be cataloged, what results would cause work to stop, and what needs to happen to start again.
Lastly, be sure to note how the work will be paid. 10H tells us the RPR does not have the authority to accept work that does not conform to the specs, so it's important to reiterate that all work must be accepted in order to be paid. Acceptance criteria should be reviewed in-depth for the specific work item at hand. Stored materials and partial work are typically not compensated, even if they're on-site or installed per spec. Lastly, P-401 and P-501 have a statistical calculation (PWL) associated with their pay. The test results could have a big impact on how much of a payment is made, regardless of how much work has been done, so it's critical to clarify that before the plant fires up.
Prework meetings have the power to improve project outcomes and ensure success along the way. By investing time in prework meetings, you can set the expectation for work methods, material handling, and quality of the final product well in advance of any work starting, and this will reduce mistakes, changes, rework, costs, and delays.
This article was originally published in Airport Business on June 3, 2021, and can be viewed here.
As a Resident Project Representative at Connico, Sri has practiced aviation project optimization for ten years and developed specialized knowledge on prework meetings to help ensure successful project outcomes. He can be reached at skumar@connico.com