Case Study
Pittsburgh International Airport (PIT) case study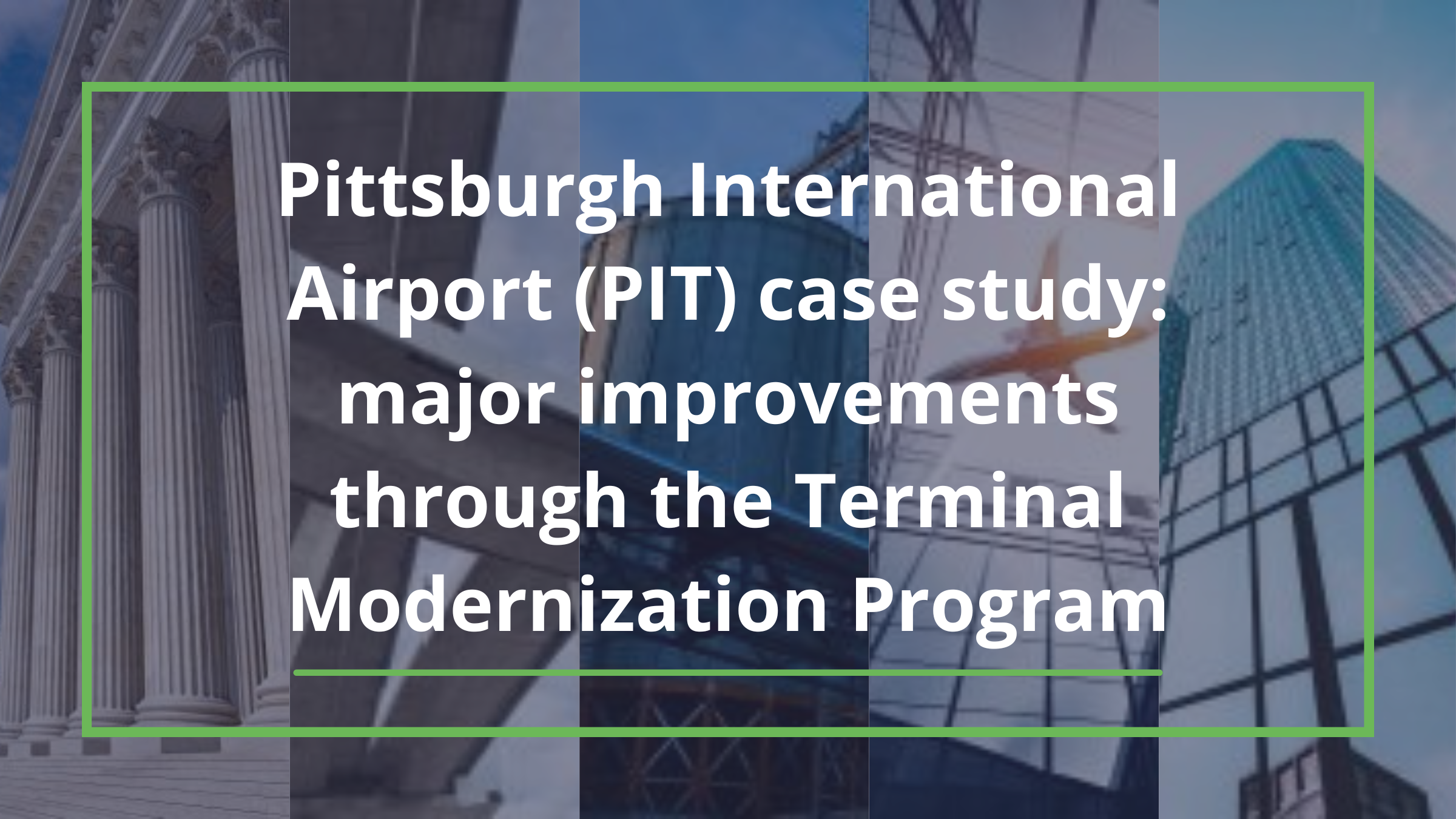 Pittsburgh International Airport (PIT) is a passenger and cargo airport managed by the Allegheny County Airport Authority, located just west of downtown Pittsburgh, and is the primary international airport serving the Pittsburgh region along with West Virginia and Ohio. PIT opened in 1952, but its last major rebuild was completed in 1992. In recent years, Connico was a key contributor in the preconstruction process for a $1.39 billion renovation by supplying cost consulting and cost management services for the Terminal Modernization and Multi-Modal Complex.
Teamwork to make the dream work
Project scope
Our work on the project began in October 2018 and included several of the elements below:
For this project, Connico conducted independent cost estimating services for all design milestones, including Schematic Design (SD), Design Development (DD) and Construction Document (CD). Additionally, our team managed and implemented the reconciliation process, which included reconciling three unique cost estimates completed by Professional Estimating Companies. While a seemingly small step, this effort set the foundation for the project to succeed.
Cost estimating scope of service
Charl J. Neser led a Connico team of ten estimators to form the internal cost estimate team. This was one of three independent estimating teams that communicated before the start of each design milestone. This collaboration set the expectation and breakdown for the scope of work to ensure all parties were aligned and worked well together throughout the process.
Reconciliation process
After the initial independent estimate was issued, an in-person reconciliation meeting was conducted that followed a process of:
Comparing / reconciling the scope of work
Comparing / reconciling quantities within each work package
Comparing / reconciling the unit pricing
Reconciling applicable markups
This meeting ensured that the scope of work expected by the client was met. The reconciliation process reviewed three independent cost estimates from three professional cost analysis companies. One was Connico's internal estimate, and the other two were externally solicited. At the end of the design development stage, Connico's estimate was within 5% of the other two estimates that were developed. The reconciled estimate was an all-in agreement of the most probable cost of the forthcoming construction of the project.
After reconciliation, a recommended final estimate was submitted to Allegheny County Airport Authority leadership, and it was determined that the project was over budget. In order for the project to meet both budget and scope expectations, the Connico team shared alternative value engineering suggestions.
Value engineering recommendations
To address the over-budget status, value engineering items were suggested and priced, which resulted in reducing the overall estimated cost to reach the client's accepted budget amount. Connico suggested alternative materials, revised design, reduction of total building areas and more to meet the client's budget.
Connico's Core Values at Work
The client's ultimate goal was to modernize the terminal into a world class facility, and Connico assisted in the decision-making process by delivering the client's vision within budget. Connico employees demonstrated our Standard of Excellence and our Value of Service by ensuring that our estimating process was done correctly from our first effort and by responding efficiently to design team discussions to keep the project on time and on budget.
Projects of this size and budget move quickly; therefore, decisions also need to be made quickly to avoid costly delays, particularly if they lead to the need for engineering and architectural redesigns. The Connico team also ensured timely Responsiveness at every opportunity by organizing our large team into small groups. Each small group was assigned a group lead who was responsible for providing direction to each discipline while managing communication with the full project team. These smaller groups aided in keeping the team on task and prepared for each design effort.
Project success aided by Connico's innovative and nimble team
The Terminal Modernization Program is a major improvement for the air travel experience. The design includes extensive use of open-spaces and the connection to outdoor areas is groundbreaking for flyers and airport employees alike. According to PIT's Blue Sky Newsletter, the project is a bold plan to right-size facilities, reduce long-term costs and speed the region's recovery.
This project was the definition of an "all hands on deck" effort. It took nearly all of the technical staff members' efforts to turn out stellar information at each level of design. At every turn, Connico delivered the expected amount of detail and specifications by employing two main strategies:
Internal Milestone tracking
Division into Smaller Discipline Groups
Internal Milestones were set based on the client's schedule and tracked by our team's individual small groups. Group leads tracked and updated the milestone progress via a spreadsheet. This ensured each deliverable was combined from each group's individual effort and reviewed on time, even under tight deadlines. Without the internal milestones, we would not have been successful in the final delivery of this project. Connico's expertise, teamwork, and organizational processes helped ensure this complicated and unwieldy project was delivered successfully.