Team News
Meet Your Connico Crew: Specialist Tere Ayers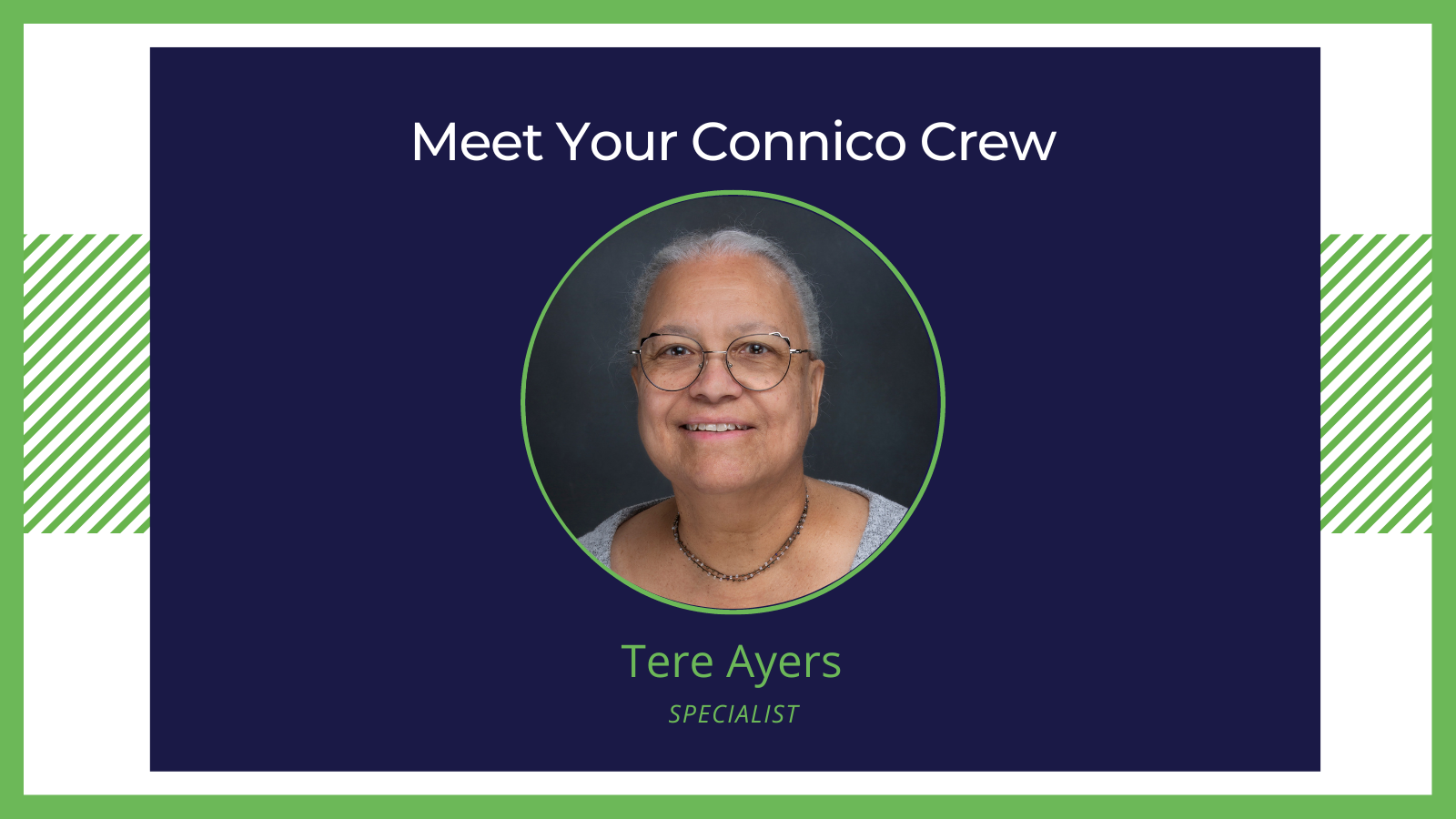 At Connico, we have a diverse team of leaders with specialized expertise in various facets of our business. Because our experienced, dynamic team is one of the main reasons clients continue to work with us, we want to make sure you have an opportunity to learn more about them. That's why we're taking you inside the cockpit to meet your Connico crew!
Our latest spotlight is on Tere Ayers, RICS, CEP, specialist. She joined the Connico team in 2019 with over 37 years of experience in estimating, cost engineering and quantity surveying and has excelled at analyzing costs by providing cost observation and direction. Her expertise in architectural estimating has been invaluable, and she was promoted to the role of Specialist earlier this year. As a Specialist, she manages project teams, works on complex projects and interacts directly with clients. Tere earned her BS in Accounting from Elmira College in Elmira, New York.
She is involved in the industry and is currently a CEP (Certified Estimating Professional) and member of AACEI and MRICS (Chartered Surveyor – Royal Institution of Chartered Surveyors).
Continue reading to learn more about Tere, including what she finds most rewarding about her job, her best career lesson, and her favorite travel destination.
Tell us about your background and your role at Connico.
I started at Connico as an Analyst III, having previously worked with a firm that had joint ventured with Connico, giving me experience with some of the policies and processes. I currently function as a project lead and interior architectural estimator.
What do you find most rewarding about your job?
I enjoy working with professionals that learn from each other and work together as a team to deliver estimates that meet our clients' needs.
What is the best career lesson you've learned so far?
Always, always, always check the scale on every drawing before you start your take-off!
What is your superpower?
I've been told that my superpower is my skill at estimating interior renovations, especially restrooms. However, I think it's my attention to detail and my QC skills.
What's the best part of Connico's culture?
I love being able to work remotely and still feel connected to my co-workers. It's made me more productive and happier not having to commute into Atlanta every day.
What's your favorite travel destination and why?
I enjoy road trips all over the US and Canada, but my favorite non-US trip (so far) was to South Africa and Zimbabwe because the culture was so different from the US.