Team News
Meet Your Connico Crew: Senior Cost Specialist Jeff Bowman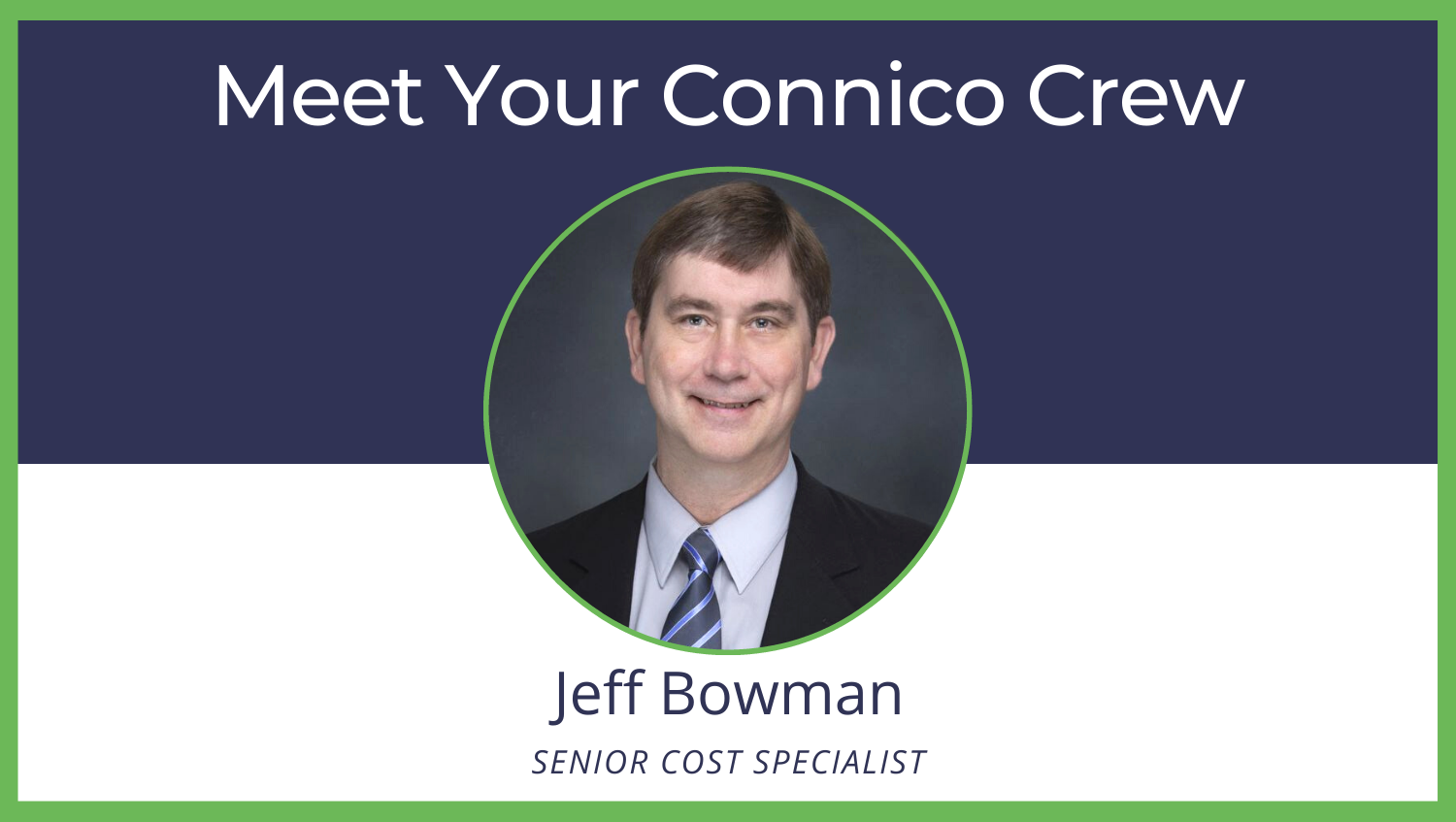 At Connico, we have a diverse team of leaders who've developed specialized expertise in various facets of our business. Because our experienced, dynamic team is one of the main reasons clients continue to work with us, we want to make sure you have an opportunity to learn more about them. That's why we're taking you inside the cockpit to meet your Connico crew!
Our first spotlight is on Senior Cost Specialist Jeff Bowman. Jeff has been with Connico since 2016 and has a background in construction management and consulting with a focus on large construction projects. His cost estimating expertise includes projects in various market segments across the country. Continue reading for details on Jeff's training, commitment and favorite travel destinations.
Tell us about your background and role at Connico.
I have been a cost estimator in the construction industry for almost 25 years and with Connico for over five of those. My project experience has been in the retail, office, water treatment, public transit, health care and aviation market sectors. For most of my career, I have worked for construction companies as a general contractor or construction manager. I love working in the industry because every project is different, challenging and fulfilling.
What do you find most rewarding about your job?
There's a level of excitement in our office that can't be matched. It's great to work with the people here. Everyone is highly skilled professionally and individually, and we all work together as a team. We support the success of each other and our clients and are willing to assist in any way possible. I also believe our diverse team of talent is one of the big reasons we're always able to find innovative ways to address our clients' needs.
What's the best part of Connico's culture?
The people. They are detail oriented, quality driven, and team focused with strong expertise in the construction industry. There is also an atmosphere that reflects sincere care and concern for one another.
How has Connico evolved since you've joined the team?
While Connico continues to grow, the core business remains the same. Everyone's focus is on bringing their best self every day to meet the needs of each project. We're really only successful if our client is successful.
Where has been your favorite place to travel to so far and why?
I like to go down roads that are off the beaten path. It's fun to travel to faraway places, but it's exciting to find interesting, new places close to home. Sometimes the best places to visit and explore are near where you travel every day.