Conferences
3 Key Takeaways From Connico's 2021 ACC Lunch & Learn Webinar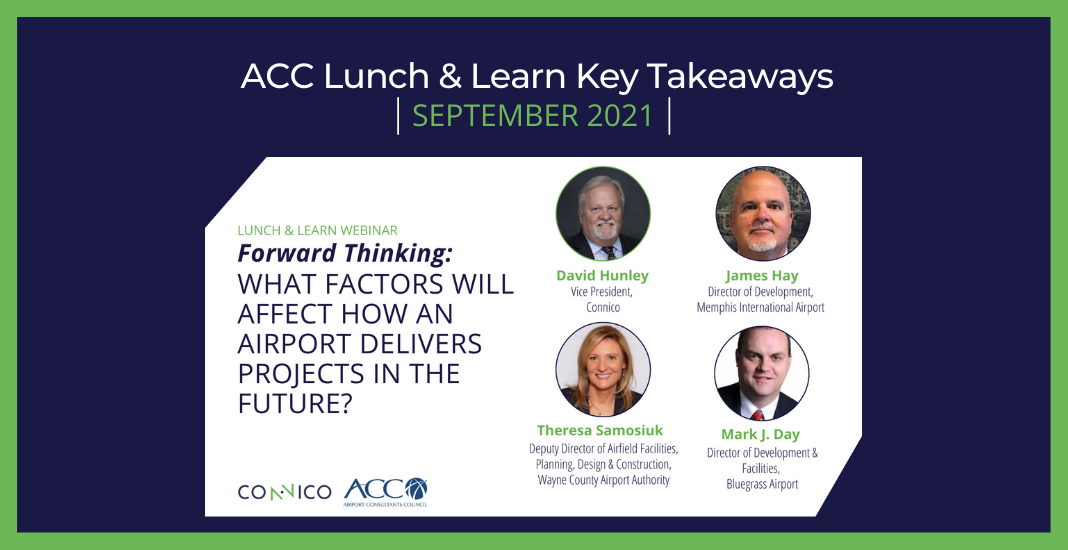 In September, we hosted a complimentary Lunch & Learn webinar about the future of aviation in partnership with the Airport Consultants Council (ACC). Our own David Hunley (Connico Vice President) moderated this lively discussion between industry leaders Mark Day (Director of Development & Facilities, Bluegrass Airport), Theresa Samosiuk (Deputy Director Airfield Facilities at Wayne County Airport Authority) and James Hay (Director of Development, Memphis International Airport).
We are so appreciative of everyone who tuned in and especially our prominent lineup of panelists for taking time out of their busy schedules to share their insights and expertise on this important topic. We enjoyed listening to their real-world project experience, which is paving the way for the future of the aviation industry and airport master plans. We cannot thank our industry professionals enough for volunteering their time to foster discussion and continue education for others in the business!
If you missed this impactful conversation, here's a look at 3 of the biggest takeaways:
1. Supply chain shortages and labor disruptions are being felt industry-wide
James: "Don't assume a project that took six months prior to COVID-19 is going to take six months going forward without knowing the availability of labor and materials in that market. We've run into some of the most bizarre shortages, like door frames, locksets, and fire alarm electronics that are suddenly in short supply."
Theresa: "We've seen a lot of change orders and schedule impacts from the shortage of materials and contractors because they don't know when they can get materials. One idea that we had was bidding projects earlier to give contractors opportunities to get their submittals approved quicker, order parts quicker, and have more time to acquire parts."
Mark: "We're hearing everybody's having trouble hiring. I'm having trouble filling a couple of trade positions in my maintenance group. We need to figure out, within reason, how to work with our professional services and make sure that we're managing things correctly."
2. Know the strengths and needs of your team and clients well
Mark: "Make sure you know what you're best at and what you can handle. Don't spread yourself too thin. Make one or two clients happy instead of having five unhappy clients. Don't kill your workforce by overpromising."
Theresa: "We're looking for onsite presence during construction. Telecommuting and hybrid models are fine during the design process, but we need the design team, project managers and consulting teams to have an onsite presence as well."
James: "Try to get your level of experience as current as you can and be aware of changing conditions. Understand the market volatility, whether it's labor or supplies, and bring that to the owner with experience."
3. Planning and flexibility are key to future airport master planning projects
Theresa: "In addition to the shortage of resident engineers, the FAA has placed restrictions on resident engineers based on the COVID-19 numbers in the area. We're now looking three years down the road; planning or scheduling of resident engineers. Keep that in mind, to all the airports and consultants out there, to do as much pre-planning as you can."
James: "We have to remain flexible in delivery methods and be open to evolution. It's also important to understand the limited or potential limited availability of cash for a significant project or improvement project. We've always been a market that has to be tight with the industry and now, more than ever, we've got to be extremely cautious and make sure that every spend is treated as though it's critical."
Mark: "Don't overreact. There are new wrinkles in your forecasting that you're going to have to consider. It's a whole new ballgame. The bottom line is that we had a chance to reset. All of the problems we were all having in 2019 are going to come back."
It's clear that delivery factors of airport master plans and projects have changed, and we are all doing our best to navigate the current environment. We know the industry is incredibly resilient and will continue to thrive. We're grateful for the lessons we've learned from our panelists that will improve our work in the future, and we're excited about what's ahead!