From the President's Desk
From the President's desk: What a chance encounter with champions reminds us about the fight for equality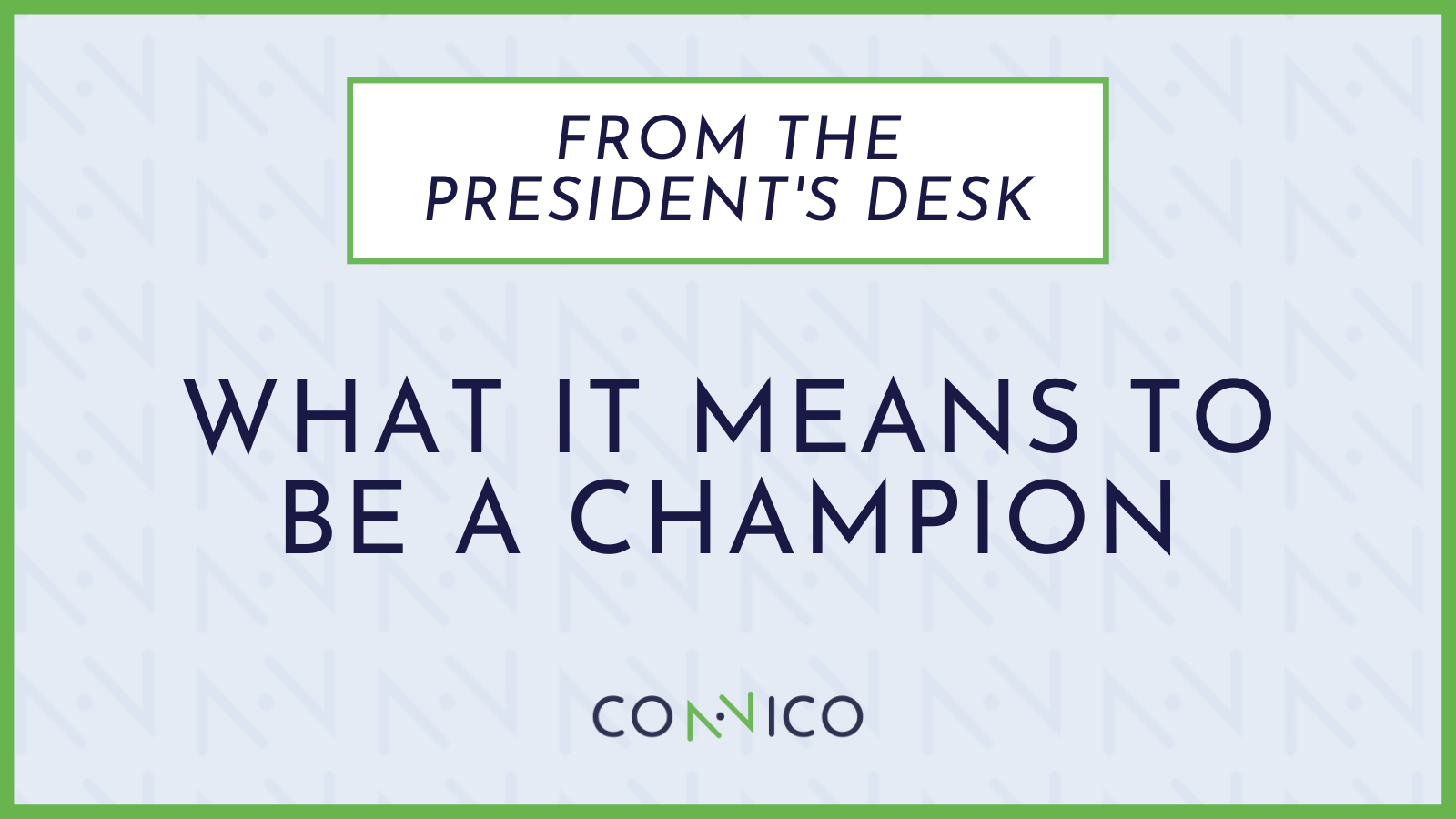 Last November, I got the awesome chance to host the 2022 ACC Annual Conference in Fort Lauderdale, FL. After many months of hard work by numerous professionals across the country, folks were very excited to attend this auspicious event, because….. our conference shared a hotel with the United States Women's National (USWNT) soccer team.
On the final day of our event, the USWNT had a scheduled game against Germany. Hurricane Nicole had just passed over Fort Lauderdale. Despite the weather, the game was played as scheduled, and many conference attendees checked it out!
The day after the game was departure day, and our conference was not alone in departing this day. With the break in the weather, many were taking the opportunity to leave the hotel. Every elevator was packed as my fiancé and I waited for a trip down with our bags. When we finally crammed on, we were the last to fit. The stop on each floor down revealed packed lobbies as the doors slid open and slid closed again in awkward silence after we faced each crowd with nothing to offer but a shrug. I got the lucky spot standing right at the doors, unable to avoid floor after floor of dejected, silent glances with dozens of strangers.
At about floor 5, the doors parted to reveal a group of women in workout attire. To my surprise, I instantly recognized the woman in front by the slight tinge of purple in her hair: Megan Rapinoe, a leading star of the USWNT and one of the planet's most talented and well-respected athletes. The funny thing is…… I've never watched even one second of women's soccer.
I was frozen: because in that instant when the doors hung open, I wanted to tell her I recognized her. But it wasn't because of a soccer match. I wanted to tell her I recognized her from her work fighting for equal pay and equal treatment in women's sports.
I wanted to tell her that she was notable to me not because of her athletic ability but because of her ability to speak up, and stand up, for equality and fairness. I'd seen her not on ESPN, but on the cover of TIME magazine, when she and the entire team were selected as Athlete of the Year for their work off the field. Her and her teammates spoke out on the world stage against an injustice that exists not just in soccer, but in every profession: whether laborer or lawyer, women in the workplace have faced unequal pay, artificial expectations, unnecessary hostility, and hosts of other discriminations both seen and unseen. And it's been this way for decades.
During Women's History Month, we have an opportunity to reflect on the champions, like those of the U.S. Women's National Team, who have helped blaze the trail toward equality. We also get to reflect on what we all need to contribute to move progress forward, and how we can leverage our status as experts in our fields to make lasting change.
We can pay and promote women fairly. We can set realistic expectations for each and every member of our teams, and ensure that women have access to the same resources and opportunities as men. We can lend an ear to women voicing issues with our systems, and take these comments seriously to ensure they are addressed. We can make it clear that our teams will not stand for discrimination of any kind. We can fight for positive change, in our company and in our industry - and in our country, with every vote we cast.
Seeing that the elevator was completely full, Ms. Rapinoe sighed and her shoulders fell, eyes downcast. I could tell they must have lost the game against Germany. She looked defeated. I had no idea how long her team had been standing on the landing, hoping each time the doors might reveal something different; a group of women at the absolute top of their game, waiting for a change.
As the doors closed, I thought about how much she had to be proud of, despite the loss. The elevator doors weren't open long enough for me to say any of this anyway – but they held the real lesson: the time to speak up about equality and fairness… is right now.
Sri Kumar is President and Chief Executive Officer at Connico. He can be reached at skumar@connico.com.