Conferences
Insights
Magic you may have missed from the 2023 Symposium in Anaheim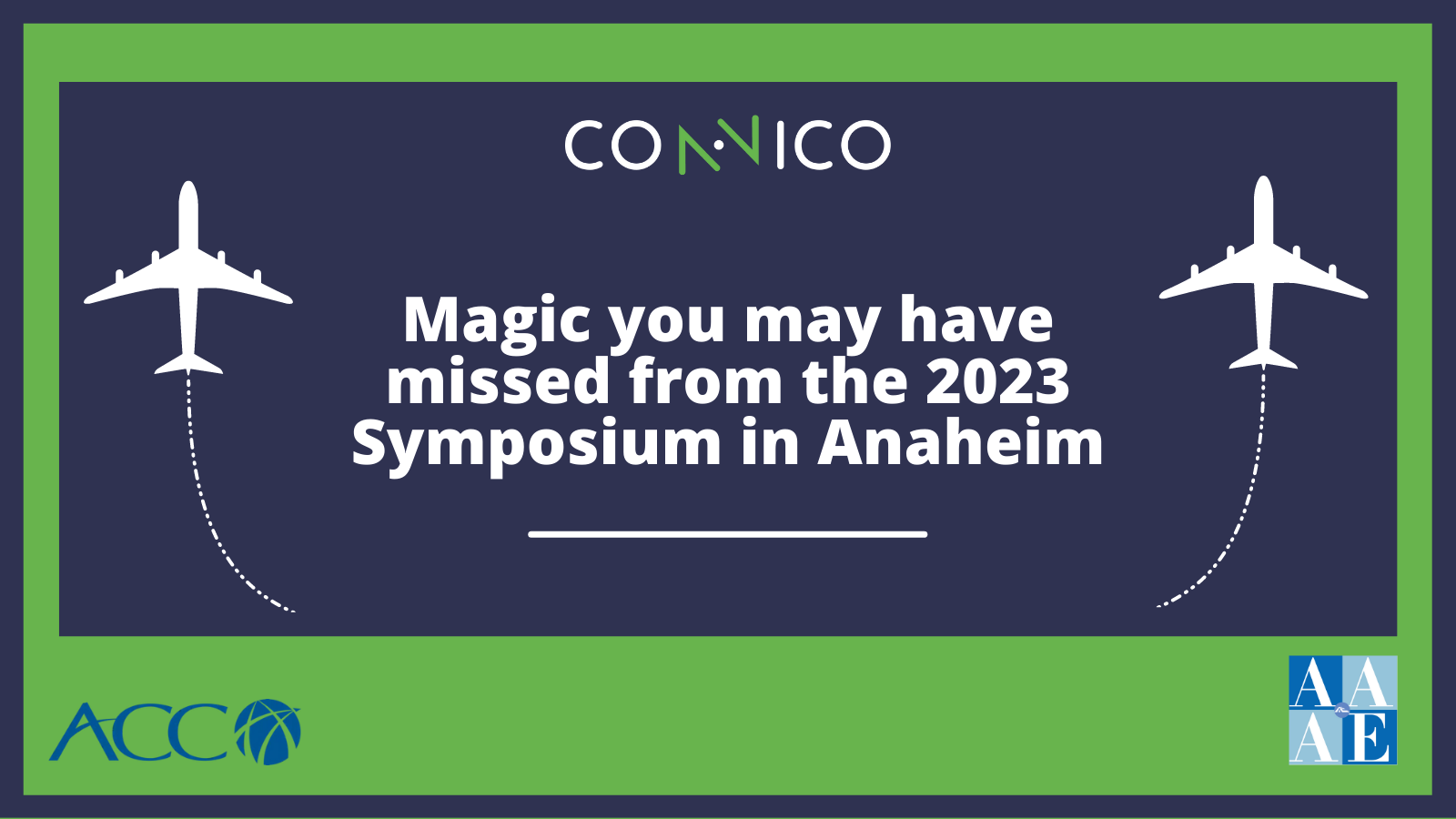 Every year, the American Association of Airport Executives (AAAE) and Airport Consultants Council's (ACC) puts on a fantastic Airport Planning, Design & Construction Symposium, and this year's conference was no different! The Symposium, known as the preeminent technical event of the year, offers leaders in the aviation industry an opportunity to connect, build relationships and learn about the latest information and developments affecting the industry.
Many of our Connico crew members headed to the happiest place on earth, Anaheim, California, from March 1-3 to spend time with 1,700 of our closest friends and colleagues and soak up the knowledge. In addition to attending this year's event, Connico had the opportunity to present to the AAAE Corporate Committee alongside other Disadvantaged Business Enterprises (DBEs). Sri Kumar, president and CEO, and the other prominent leaders shared stories about their companies and discussed teaming and projects through a DBE lens. The AAAE Corporate Committee even gave a great, warm shout-out to our late founder, Connie Gowder, for her dedication to AAAE throughout the years.
If you weren't able to make this year's symposium, don't fret! Our team collected several of our biggest takeaways from the sessions, conference environment, and networking discussions. Continue reading for insights from Sri Kumar, PE (President & CEO), Jeff Bowman, CPE (Senior Cost Specialist), Michael Feeney, PE (Analyst III), Suraj Gaikwad, CMIT (Analyst II) and Charl Neser, MRICS, CCP (Director).
Don't forget: Consult your end user before launching a product or service
One of the most insightful sessions I attended was "Creating Access for Passengers with Disabilities." This taught us a valuable lesson, and one that can also be applied outside of terminal design: to consult your end user before launching a product or service! Too often, airports and their facilities are designed with what we think constitutes accessibility without ensuring the right end users have a seat at the table. The same goes for projects of other shapes and sizes. If you're not designing with your customer in mind (even if your final deliverable is a report instead of a building), you may be missing the mark!
Sri Kumar, President and CEO
Data and technology will only continue to add value
My attendance at the 2023 Symposium has given me additional insights into current airport design focuses as well as perspectives for the future of aviation transportation. Of the sessions I attended, two stood out to me for their emphasis on data and technology. The "Digital Twins" session discussed the process behind developing a digital twin and how rightsizing the data collection pieces must be determined early on in the process. I also enjoyed hearing the TSA's recommendation that a best practice would be to provide infrastructure capabilities for future new system outfitting for current checkpoint construction projects.
Jeff Bowman, Senior Cost Specialist
The industry needs fewer carbon emissions and more face-to-face time
Overall, this experience was great! The Young Professional (YP) bowling night at Lucky Strike was one of the better networking events I've attended, and there were so many opportunities throughout the Symposium (including the Connico-cohosted networking event) to finally meet people face-to-face that I've worked with for years. In addition to the incredible relationship building, I learned a great deal about the industry's goal to lower carbon emissions in the coming years at both the "Airfield Pavement Research, Design and Technology" and "Airside Engineering Hot Topics" sessions. The use of capture carbon technology in concrete pavement designs means waste carbon is injected into the mix of concrete pavement, reducing the total waste that is emitted into the atmosphere. It also helps offset the amount of necessary cement production, which reduces the amount of kilns being powered up, one of the industry's leading causes of carbon emission. Our team has even assisted with estimating and scheduling for a project that used this type of pavement!
Michael Feeney, Analyst III
Sometimes accessibility beats aesthetics
This was an excellent opportunity to network with professionals, especially young professionals, in the aviation industry. I enjoyed learning more about the Carbon Capture Concrete used on the IND airport's RW 5R-23L project, especially the fun fact that the carbon emissions saved was equivalent to planting 1.2 million trees. It was also valuable to gain perspective on making airports more accessible. The group shared an emphasis on choosing ADA accessibility over aesthetics and encouraged consultants to be more aware of the ADA accessibility issues at airports and their potential economic and social impacts.
Suraj Gaikwad, Analyst II
Leadership is shifting with every new generation
Although there were a lot of beneficial sessions, one of my biggest takeaways came from the keynote speaker on "Managing a Multi-Generational Workforce." Being a baby boomer, it was a validating and interesting presentation to hear the speaker help me understand my frustrations, share how to voice them and indicate that all of us have similar experiences. Understanding the younger workforce will help me become a better leader.
Interested in learning more about the 2023 Symposium? Take a listen to the ACC's The Hold Room podcast (Season 2, Episode 6): Live at Symposium to hear Sri and other industry leaders share insights on diversity, equity, inclusion, and accessibility in aviation and beyond.