Insights
Word on the Runway: How do we find the resources ready to work?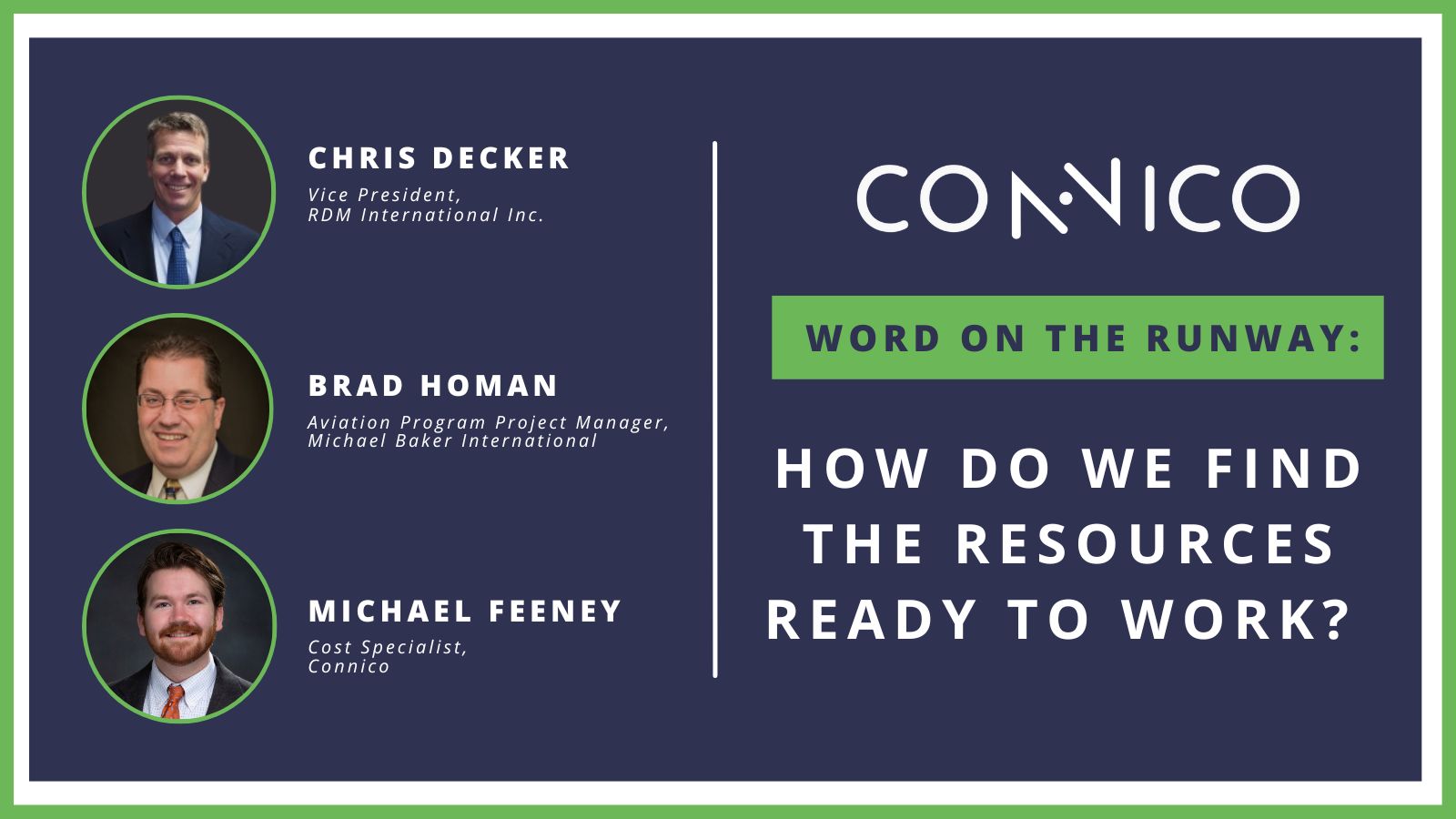 It's crunch time! With recent, unprecedented funding injections into the aviation and transportation industries, our workforce is sitting on the edge of a precipice: there are not enough talented professionals to face down the upcoming wave of work, which could knock us over the edge and cause American infrastructure to grind to a halt. How do we face this challenge and stand up to the coming wave?
For more than 30 years, we have successfully delivered clients' visions for projects, and as we continue to grow, we remain focused on continuing this legacy of excellence. As new challenges and opportunities continue to present themselves, we aim to be a valued voice and resource to our partners, clients and friends. We recently spoke with industry leaders Chris Decker, vice president of RDM International Inc., Brad Homan, associate vice president and aviation project manager at Michael Baker International, and our own Michael Feeney, cost specialist at Connico, to get their insights on how to find and allocate resources to facilitate new aviation projects as recruitment efforts continue to be challenging.
We're grateful to these prominent leaders for sharing their perspectives with us as we continue navigating the evolving industry landscape. In the latest installment of Connico's Word on the Runway series, we asked:
There are billions to spend on aviation projects, but how do we find the resources ready to work?
Here's what our experts said.
Chris Decker, P.E., F.ASCE
Vice President, RDM International Inc.
With the current abundance of money induced into the system and available to aviation projects, we must rely more on key individuals and technology to facilitate the work. This is relevant to both a project's engineering design and construction. The entire industry is supported in the fashion of a three-legged stool – production, quality and budget. With the proper planning and continuous transfer of key information, these three "legs" can support work together. However, when the resources required – people, materials and supplies – are stretched beyond their capable bandwidth, the end result will suffer. This occurs because these items conflict in an adversarial relationship when one does not have access to a "leg" appropriately allocated.
A stronger understanding of the advancements in technology can assist with gaps in experienced personnel. Technology, when used optimally, can free personnel to focus on guiding production through the training of new staff. Without that guidance from experienced staff, both quality and budget can be thrown out the window. Recognizing strengths and weaknesses inside of a system can positively yield results in the allocation of current resources to maximize the benefits of a given project. This creates harmony in the balance going forward and can lead to continued success.
Brad Homan
Associate Vice President and Aviation Project Manager, Michael Baker International
One of the primary challenges in acquiring aviation-specific resources is that we have limited aviation-specific education programs. This shortage is not only on aviation design projects, it also includes pilots, traffic controllers and many other aspects of our industry.
We as an industry, individuals and our companies, need to start marketing aviation to junior high school kids. Oftentimes, if we wait until they get to high school, they have already been guided toward an interest or identified their own interests without even knowing about potential aviation careers. Additionally, our industry needs to partner with higher education institutions to develop aviation-specific career programs. The key is going to be getting kids interested in aviation at a young age. We all marveled over watching airplanes when we were kids, but few of us, including me, were aware of aviation career opportunities. Many of us continue to marvel over watching airplanes as adults, so this industry is a perfect fit to continue learning and exploring.
Michael Feeney, P.E.
Cost Specialist, Connico
The main resource unavailable to both designers and builders is quality labor. The additional funding into the aviation industry can and should be leveraged to attract both new and seasoned designers, consultants, laborers and contractors from other market sectors to begin competing in the industry. If unsuccessful at adding additional talent, the industry will become stretched too thin, and the additional funding will be spent on higher profit margins and lack of competition on projects.
As experts in consulting services, Connico is focused on providing extraordinary results for our clients. Our skilled team of planners, architects, engineers and consultants have transformed airports, roadways and communities across the country.
Have a question you'd like to submit for our series or want to connect further with our team? Get in touch with us below!