Team News
Meet Your Connico Crew: Senior Cost Specialist Karl David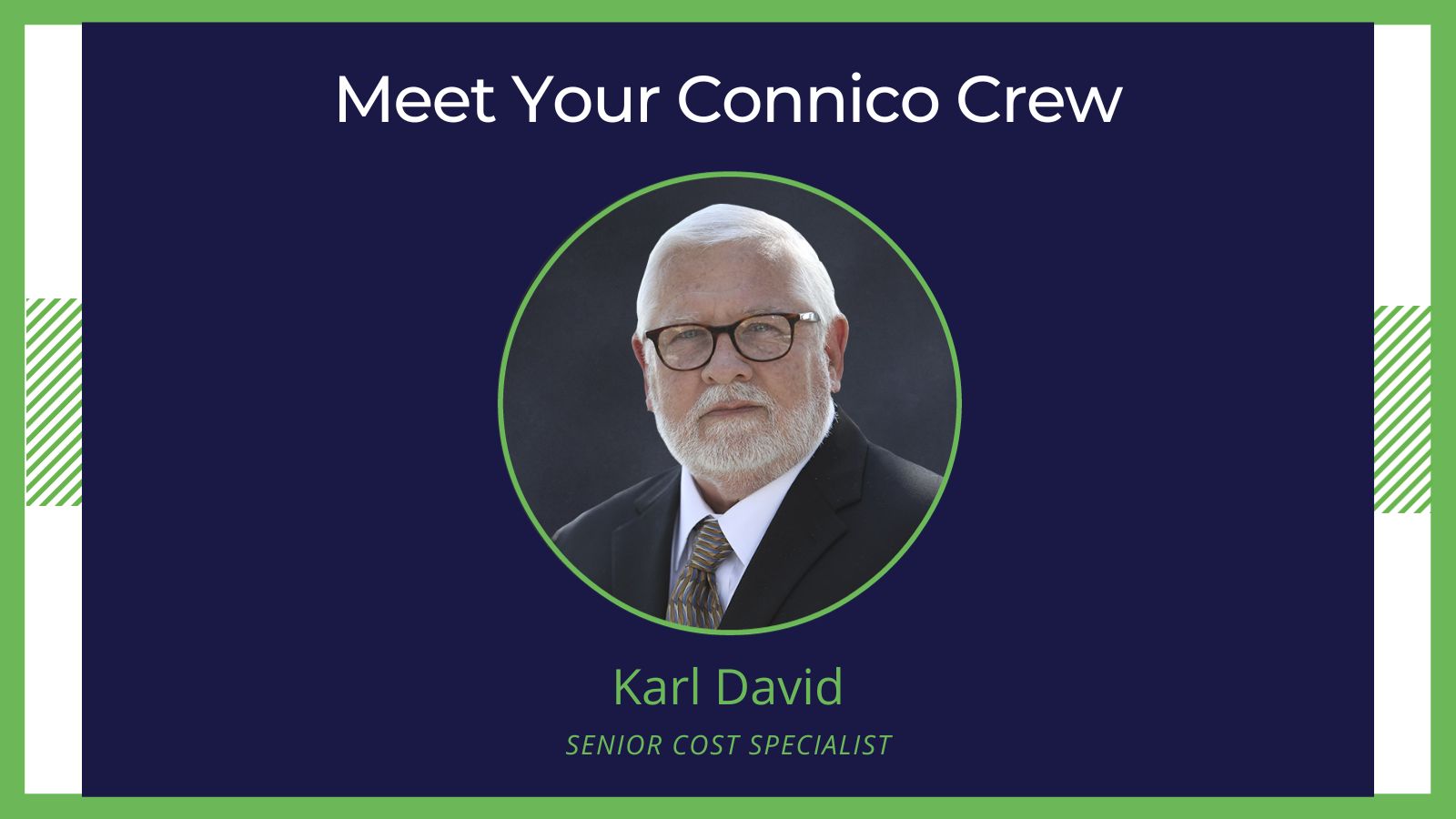 At Connico, we have a diverse team of leaders with specialized expertise in various facets of our business. Because our experienced, dynamic team is one of the main reasons clients continue to work with us, we want to make sure you have an opportunity to learn more about them. That's why we're taking you inside the cockpit to meet your Connico crew!
Our latest spotlight is on Karl David, senior cost specialist. An established estimating professional, Karl joined the Connico team in 2022. In his role, he focuses on performing high-level estimates based on clients' needs.
Karl is a graduate of the College of Charleston and has more than 47 years of experience in the construction industry. Continue reading to learn more about Karl, including his best career lesson, which Connico core value resonates most with him and the most rewarding part of his role.
Tell us about your background and your role at Connico.
I have been in the construction industry for nearly five decades. When I entered the industry, the business model for most general contractors was: you bid it, build it, and collect the money or you wouldn't have a job. I quickly learned how to estimate and be an efficient project manager.
Heavy foundation work – building bridges, bridge foundations, boardwalks, piers and containment walls – has always been my favorite part of a project. Over time, however, I gradually moved to a more standard architectural type of construction through federal government-type projects with the Department of Air Force, Department of Navy and Department of Energy (Nuclear) doing design build and conceptual estimating.
After working on numerous federal projects, I pursued high-rise construction, mixing in the educational sector. I learned a lot about estimating during this time. Hard bid estimates are a different world when trying to cut the cost and percentages down to be the successful bidder.
My role at Connico as a senior project specialist is to perform high-level estimates based on the clients' needs, but also to share insights and develop potential solutions to their challenges.
What do you find most rewarding about your job?
My role at Connico has been interesting and very rewarding. Estimators can have tunnel-vision when approaching an estimate or a project. With the talented group at Connico, it has been a pleasure to hear and see how others approach their work and learn from each other to improve the work we do in a meaningful way.
Which Connico core value resonates most with you and why?
Resiliency is a must in this industry. We are all taught respect and integrity. I believe that as we become more seasoned, it becomes more important to respect others and hold a firm line on integrity to create a stronger outlook in life.
What's your best advice for young professionals entering the industry?
I would recommend young professionals remain flexible and learn how to become students of their profession so that they are always improving.
What's a fun fact about you many people may not know?
I sailed the East Coast for 5 years.
What is the best career lesson you've learned so far?
I've learned that it's important to be determined while keeping an open mind and enjoying your profession.