Conferences
Missed the 2022 Airport Planning, Design and Construction Symposium? Here are the key takeaways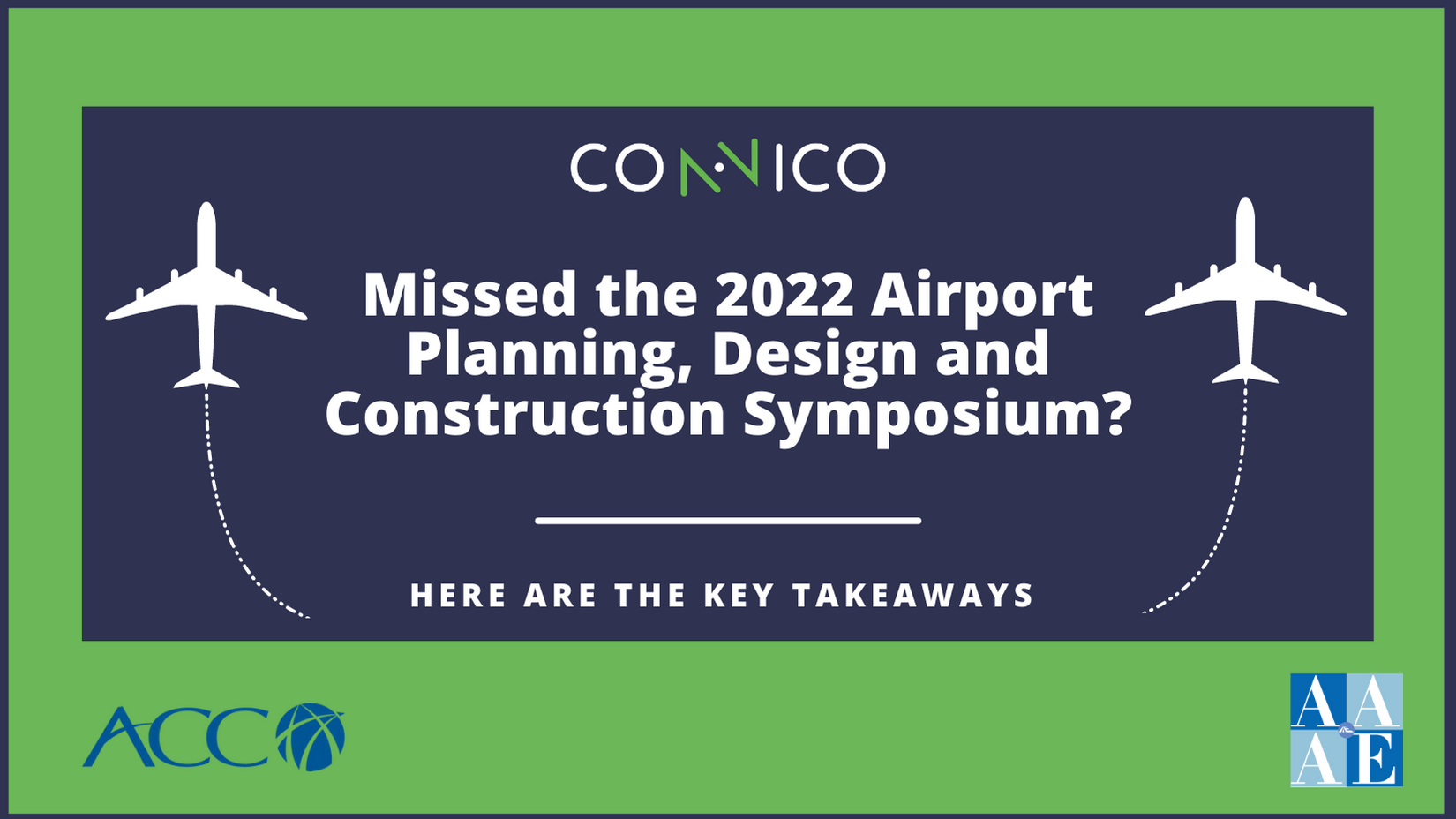 The American Association of Airport Executives (AAAE) and Airport Consultants Council's (ACC) 2022 Airport Planning, Design & Construction Symposium took place on March 1-3 in Nashville, Tennessee. More than 1,400 leaders attended the annual event, which is widely known as the preeminent technical event of the year to learn about the latest information and developments affecting the industry.
If you weren't able to attend this year's symposium, don't worry. Our team compiled their biggest takeaways from the sessions, conference environment, and networking discussions. Continue reading for insights from Michael G. Feeney, EIT (Analyst II), Jeffrey R. Bowman, CPE (Senior Cost Specialist), David J. Hunley, PE (Vice President & CDO), J. Caleb Claxton, EIT (Analyst II), Lisa A. Heckendorn-Blake, PMP (Senior Project Specialist) and Sri J. Kumar, PE (President & CEO).
Airports and aircraft designs are evolving to meet their potential
After attending the "Under Pressure": Project Delivery in a Flash session in the Engineering/Airside track, it became evident that airport owners need to find new ways to deliver projects while keeping airport operations functional. Many have begun exploring Design Build (D-B), Progressive Design Build (PDB) and Job Order Contracting (JOC) to work with contractors at an earlier stage and ensure the work can be done.
I also attended the Plenary Session: Future of Aircraft Design where they discussed how aircraft design is currently limited by the infrastructure standards set years ago. While efficiencies are improving, they will forever be limited if we do not explore converting airport design regulations to match the potential of what new aircrafts could look like. On the sustainability side, the use of "greener" energy methods may be a troublesome path until more efficient batteries and energy production methods become available.
- Michael G. Feeney

Optimism is in the air post-COVID
Since COVID hit the scene, we've been faced with various obstacles that caused us to pause and, in some cases, required us to take a step back. During the Symposium this year, though, there was great optimism and a refreshing energy that filled the sessions and surrounding activities. Everyone was forward-looking and embracing the new normal. We were all glad to see faces we haven't seen in a while and to share our experiences of the recent past. It was great to see everyone again and to make new connections.
- Jeffrey R. Bowman


Refreshing to see a diverse mix of industry leaders
Based on the emerging leaders in our industry, the future is looking extremely bright, especially for our team at Connico. The diversity in our industry, which has evolved naturally based on the talent available, was very evident when observing all the young professionals at the conference - I was especially impressed with the number of young women in attendance.
The session"Under Pressure": Project Delivery in a Flash was also right on target. With the additional new funding available for airports, the number of projects has been increasing, and the delivery methods for these projects are being expedited to meet the timelines required to access available funding.
- Lisa A. Heckendorn-Blake

Young professionals' development must continue to be prioritized
I believe that there are like-minded professionals in our industry that are seeing the same thing I see - ACC is doing a wonderful job showing Young Professionals, or "YPs," the importance of learning how to network. This not only creates an opportunity for the emerging leaders in our industry, but it also helps with the long-term sustainability of the workforce in years to come. The forward-thinking companies are matching that mentality and sending their YPs to these events might be taking a risk that their employees may find greener pastures; however, these types of opportunities are absolutely necessary to maintain a stable and effective workforce. I am so glad that Connico is in this progressive group!
- David J. Hunley

As part of the Young Professional team, the Airport Planning, Design and Construction Symposium was a great place to meet other professionals and grow my network. I was able to connect with other YPs from across the country, and from the looks of it, the industry is in good hands based on the intelligent and hard-working individuals I met at the conference!
- J. Caleb Claxton
Breaking industry barriers is more essential than ever
This year's Symposium didn't have a dedicated theme, but all sessions and conversations shared the same motif: breaking barriers. The Symposium taught us that now is a time to face new challenges, try new things and grow in a way that leads to more than just a bigger bottom line.
Our industry must continue to increase its visibility. Whether seeking solutions in regulation or recruitment, our industry's song, and all its members' voices, should be heard by lawmakers and future industry experts alike. We know that we need to expose more young folks to transportation and aviation, and the fantastic career opportunities therein. We also know that we have a powerful megaphone when it comes to helping advance fair and reasonable laws and codes, bringing them into the modern era and using them as tools in our mission to protect public welfare.
The current industry is in a treasured state: money is mostly available, policy is most favorable and consumer confidence is mostly high. Shared profitability is close on the horizon for airlines, airports and consultants alike. You really can feel it: we're on the cusp of breaking past so many boundaries. It's time to renounce, at all levels, the consumerist attitude of wanting everything done in compressed timeframes and on compressed budgets, and realize that patience, at every single stage of our process, will result in better outcomes for us as an industry. Not to mention better outcomes for the audience of our work: the public, to whom we have a responsibility to assert care and attention to detail always.
- Sri J. Kumar