Team News
Meet Your Connico Crew: Senior Marketing Specialist Janet Terry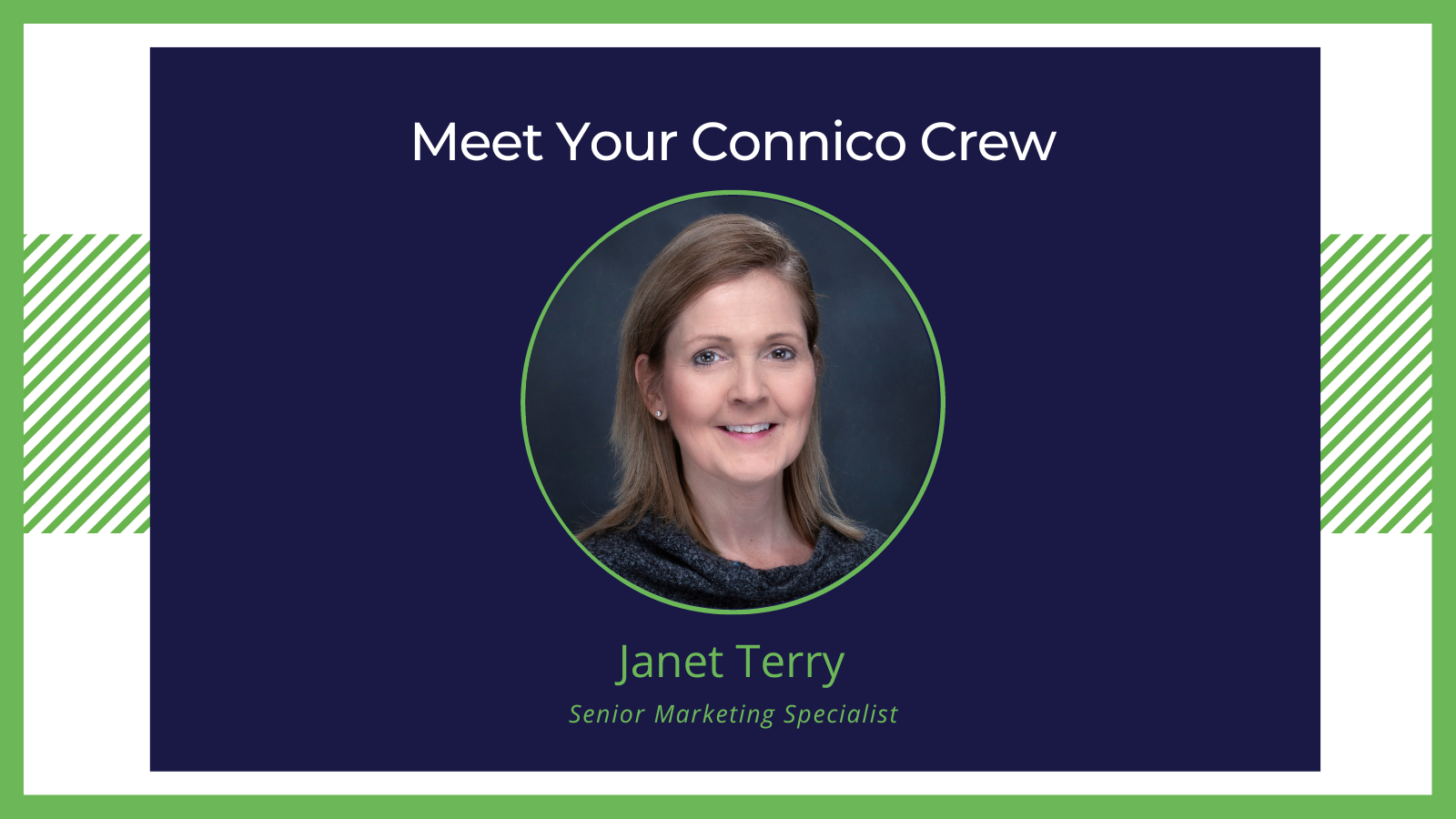 At Connico, we have a diverse team of leaders with specialized expertise in various facets of our business. Because our experienced, dynamic team is one of the main reasons clients continue to work with us, we want to make sure you have an opportunity to learn more about them. That's why we're taking you inside the cockpit to meet your Connico crew!
Our latest spotlight is on Janet Terry, senior marketing specialist. An established marketing professional, Janet joined the Connico team in 2017. Her primary roles include managing marketing-related materials and identifying new projects for Connico to pursue. She has a deep passion for the Architecture, Engineering and Construction (AEC) industry and is proud of the impact she makes through her work.
Janet earned her bachelor's degree in business administration with a major in marketing from Creighton University in Omaha, Nebraska and is a member of the Society for Marketing Professional Services.
Continue reading to learn more about Janet, including her professional superpower, the most rewarding part of her role, and her favorite vacation escape.
Tell us about your background and your role at Connico.
I have worked in the marketing arena for quite some time. I fell in love with the AEC industry about 15 years ago and never looked back. At Connico, I am the marketing lead, and my responsibilities include finding projects for us to work on, handling the submittal of our statement of qualifications for projects, updating our website, keeping our CRM humming, and anything else marketing-related the company needs.
What do you find most rewarding about your job?
It is so satisfying to work on projects that affect people's daily lives – from building a road that carries people from home to a destination, creating a building that houses exactly what they need, or improving an airport people use to reach their next destination.
What has been one of your favorite marketing projects to work on at Connico and why?
We rebranded a few years ago, and that was one of my favorite marketing projects to lead. We had a team of people that worked on the rebrand, and the way we all came together and listened to each other's ideas was fabulous and helped shape the final vision.
What is your professional superpower?
My professional superpower is my topnotch planning ability. Juggling several things a day makes some people extra nervous, but I really like to plan. Effective planning helps give me an idea of what I must get done and allows me to build in a little wiggle-room for the extra assignments that always seem to make it into my day.
What's your best advice for young professionals just starting their careers?
My best advice to young professionals is to be flexible and surround yourself with the smartest, nicest, and most honorable people you can find.
How does Connico support your personal growth and development?
Connico supports each and every person within the company by encouraging them to empower themselves, whether that means joining an organization, serving on a board, pursuing a certification, volunteering their time, or traveling to a conference.
What's your favorite travel destination and why?
I am a beach girl and absolutely love Maui, Hawaii. I have visited several times, and every time I return, I am always amazed by the beauty. My husband lived there for some time when he was younger and always has great local knowledge to share.