Insights
As inflation rises, Connico's multifaceted team helps address risk and uncertainty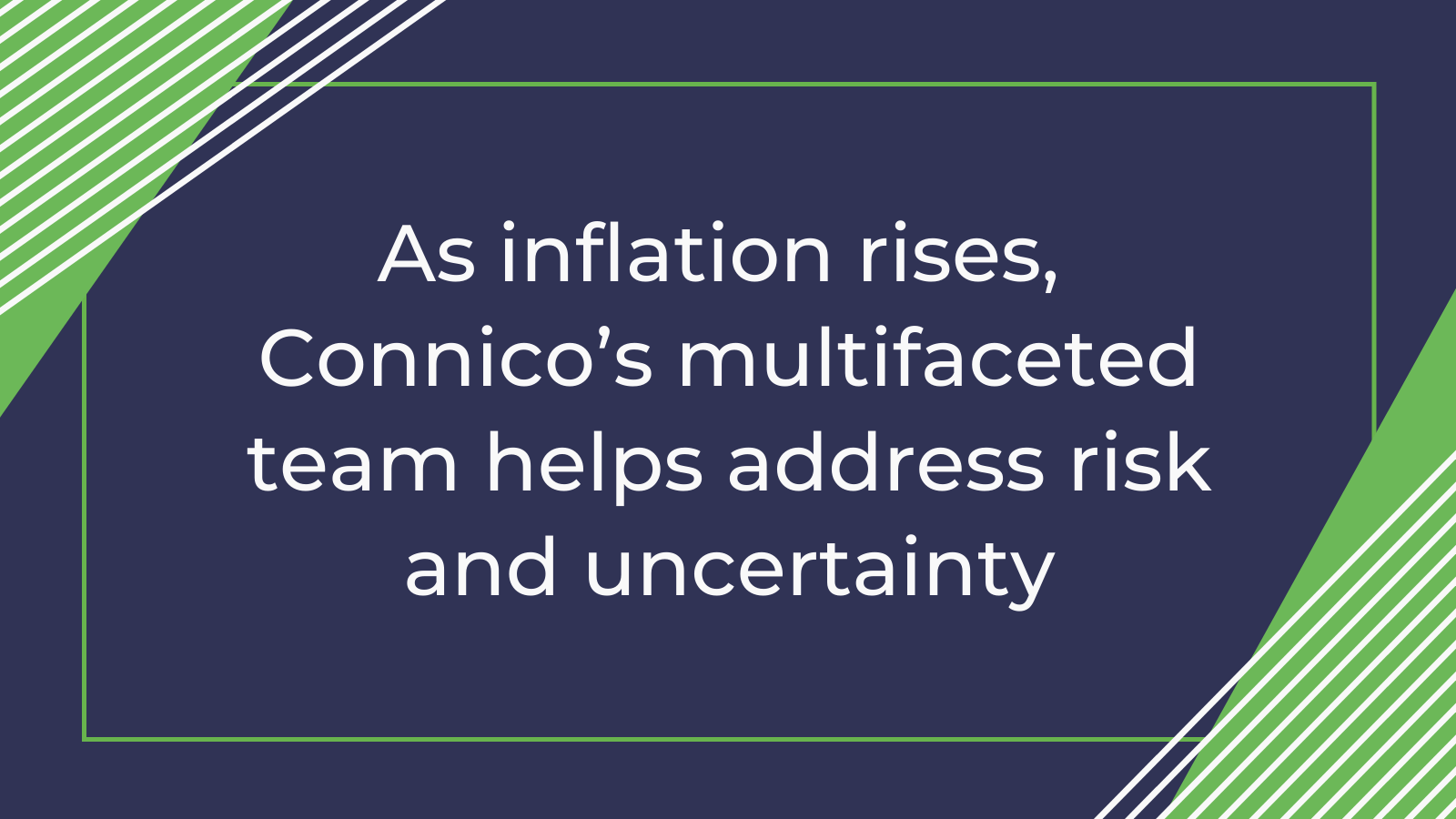 As a firm that specializes in cost estimation, we are continually monitoring inflation and market conditions. Although we cannot change the market, we can provide project owners with timely and credible third-party information about changes in relevant material costs and supply-chain issues that may impact the cost and completion time for a project that is underway or for which a bid has already been submitted.
With over 30 years of experience monitoring and navigating fluctuating costs, we've always helped our clients address risk and uncertainty to effectively plan for changes and reach successful project outcomes. Our division of cost specialists ensures we have a pulse on all relevant material prices in the market.
In the blog below, Chief Cost Specialist Charles Cleary, CPE, addresses the most common questions we hear when inflation costs begin to soar and ways we help our clients manage the turbulence.
What's the impact of inflation on the construction market?
The best way to describe inflation's impact on the construction market is to divide it into two different kinds of inflation: past and future. Past inflation has already occurred. Its impact on the construction market can be realized through increased material costs, increased supply chain costs, and other construction indices.
Future inflation is the inflation that will occur over a construction project's lifetime. To address this in project costs, inflation can be forecasted over the length of a project. This is also known as construction escalation. Forecasting construction escalation has become more difficult with recent market volatility; however, with constant monitoring of past inflation and comprehensive studies of economic and market conditions, escalation forecasts can be developed with reasonable accuracy.
When market conditions are volatile, contractors are at greater risk to guarantee bid day pricing and will likely pad unit costs to cover themselves and the additional risk they face, resulting in higher bid day pricing.
What does this mean for me as an airport owner or client to an airport owner?
Owners should mitigate contractor risk when and where they can. Several cost increases have been a result of demand and supply chain limitations. Pushing liquidated damages onto a contractor, who already cannot guarantee availability of supplies months in advance, will increase bid day costs.
There are several ways owners can begin to mitigate the current state of the market, including:
Make in-house purchases or immediate reimbursements of long lead items that will impact the construction project's critical path

Hold contractor outreach meetings in the weeks leading up to the project and ask for contractor feedback about difficulties/current market risks they foresee with the project

Explore alternative delivery methods for upcoming projects

And of course, hire a cost expert to consult on your project!
How does Connico keep up with all of this?
Well, it's what we love to do. As cost consultants, we are not responsible for design, compliance, or other areas of the project development. This allows us to dedicate ourselves to focus solely on cost and the drivers that affect it. While understanding the changes to the advisory circular or spending time at pavement design conferences is important, it is ancillary to the time we spend tracking construction commodities, talking with material suppliers and contractors, and understanding today's market.
Connico also holds all estimating divisions in-house. This allows each division leader to closely track changes in their focus area, including mechanical, heavy civil, interiors, electrical, and other estimating divisions.