Team News
Meet Your Connico Crew: Project Analyst II Suraj Gaikwad, CMIT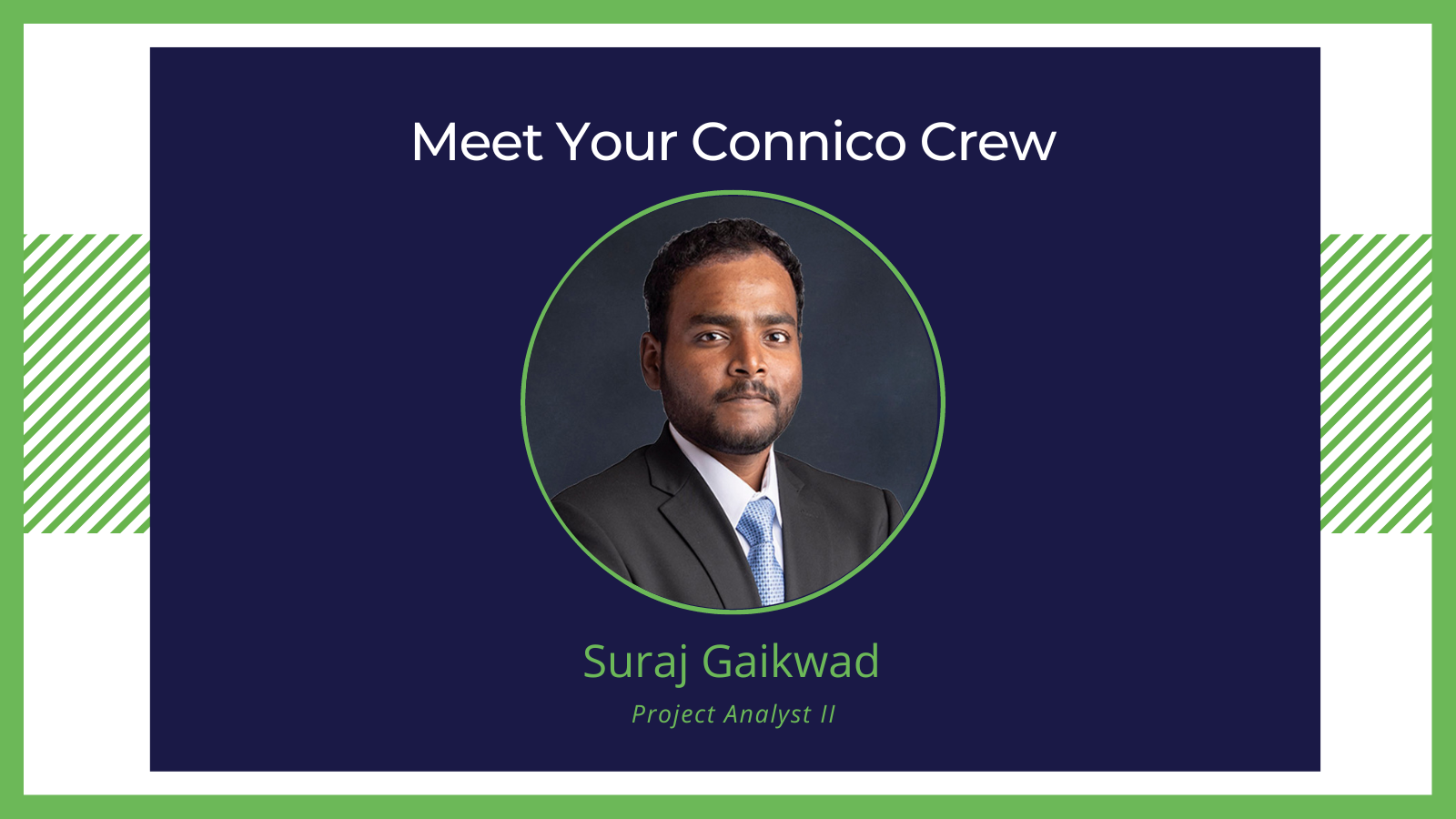 At Connico, we have a diverse team of leaders with specialized expertise in various facets of our business. Because our experienced, dynamic team is one of the main reasons clients continue to work with us, we want to make sure you have an opportunity to learn more about them. That's why we're taking you inside the cockpit to meet your Connico crew!
Our latest spotlight is on Suraj Gaikwad, CMIT, project analyst II. He joined the Connico team in 2021 with a background in on-site residential and commercial construction supervision as a project engineer. He also has experience as a construction material testing technician and learned the ropes of construction up close.
As a Project Analyst at Connico, his work is diverse and interdisciplinary. He works on special aviation projects and gets to wear both his engineering and estimating hats. This blend of skill sets allows him to learn something new every day and pushes his technical skills forward.
He holds a master's degree in civil engineering with emphasis on construction engineering and management from the University of Colorado Boulder; bachelor's in civil engineering from Walchand College of Engineering – Sangli, and is a certified construction manager in training.
Continue reading to learn more about Suraj, including his best career lesson, favorite musical genre, and what he believes sets Connico apart.
What do you find most rewarding about your job?
I enjoy learning something new every day and feel lucky to be working on many unique and challenging projects that push me to acquire new knowledge and hone my technical skills.
How do you stay involved in the industry?
I'm a published author in the ASCE Journal of Construction Engineering & Management. The research article quantitatively and qualitatively analyzes the bidding environment to help transportation agencies better their bidding policies. I am also an active member of the National Society of Professional Engineers (NSPE).
What has been one of your favorite projects to work on at Connico and why?
Working as the lead construction observer on the CVG Amazon Air Hub in 2021 will always be special to me because it was my introduction to on-site aviation construction. I better understood most of the WHATs, WHENs, and WHYs associated with the Federal Aviation Administration (FAA) requirements while working on this project.
What is the best career lesson you've learned so far?
My best career lesson is to lead by example. Make sure your work ethic echoes the same story that you tell as a leader. As Mahatma Gandhi rightly said, "An ounce of practice is worth more than tons of preaching."
What separates Connico from other scheduling partners?
Connico provides room for its employees to innovate. I believe a company that lets its employees innovate will always be a stereotype killer.
What's a fun fact about you many people may not know?
I like thrash/heavy metal music. Let's just leave it at that!
How does Connico support your personal growth and development?
Connico is big on networking. They make every attempt to push employees to go meet people from the industry to develop interpersonal relations. They also encouraged me to join at least one professional organization and ensured that I actively participated in it.