Team News
Meet Your Connico Crew: Analyst III Michael Feeney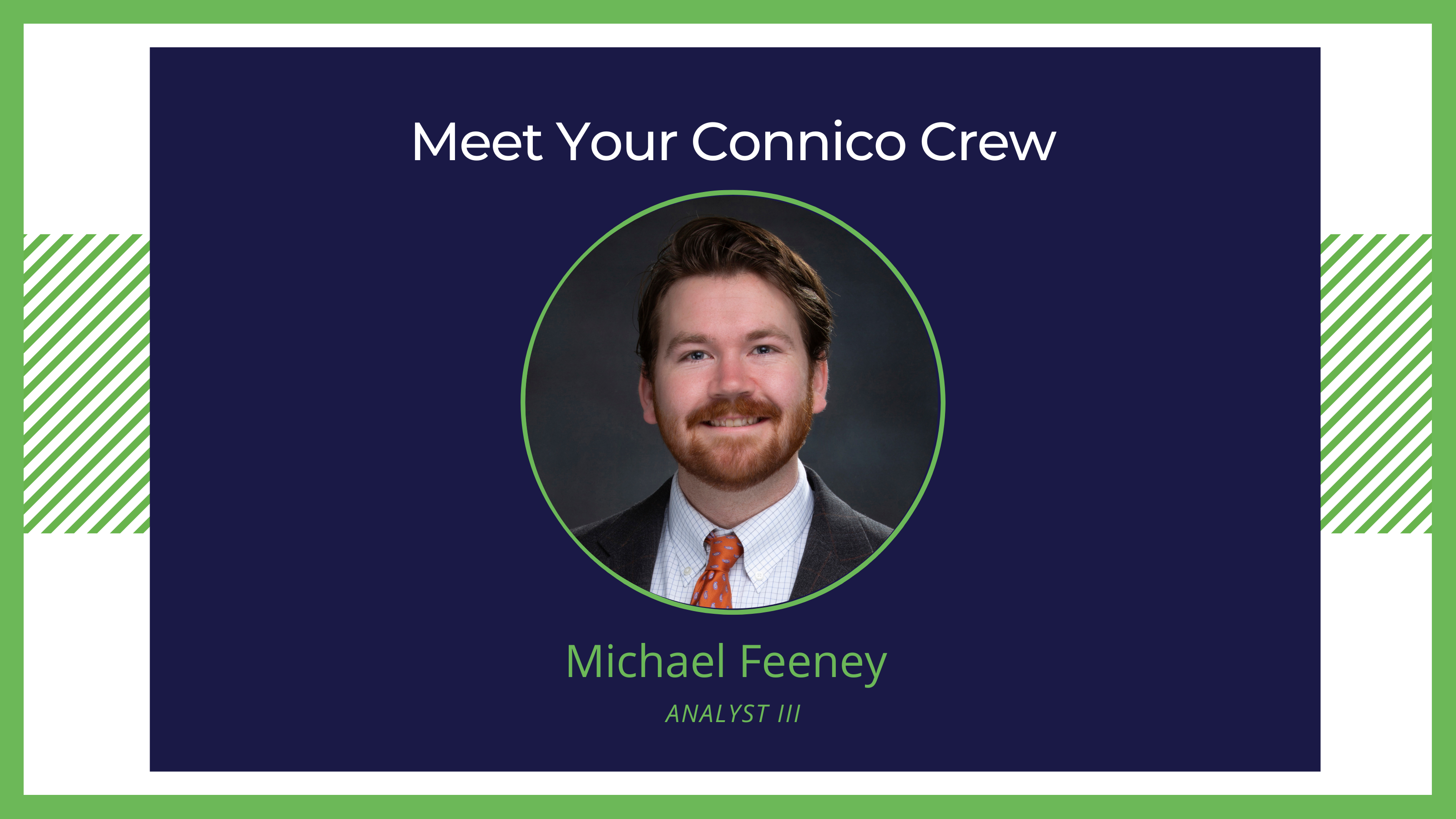 At Connico, we have a diverse team of leaders with specialized expertise in various facets of our business. Because our experienced, dynamic team is one of the main reasons clients continue to work with us, we want to make sure you have an opportunity to learn more about them. That's why we're taking you inside the cockpit to meet your Connico crew!
Our latest spotlight is on Michael Feeney, Analyst III. He joined the Connico team in 2018 and has been heavily involved in the industry for years, including being a member of the Airport Consultants Council (ACC) Young Professionals Forum, a frequent attendee at industry conferences and a member of the Nashville American Society of Civil Engineers (ASCE) chapter. Michael received his M.S. in Construction Engineering at the University of Washington, his B.S. in Civil Engineering at the University of Tennessee and is an Envision Sustainability Professional (ENV SP).
As of this summer, he also received his Professional Engineer (PE) licensure, which is the engineering profession's highest standard of proficiency. To become licensed, engineers must complete a four-year college degree, work under a Professional Engineer for at least four years, pass two intensive competency exams and earn a license from their state's licensure board.
Continue reading to learn more about Michael, including what advice he has for those pursuing their PE licensure, how Connico supports personal growth and development and his favorite travel destination.
Tell us about your background and your role at Connico.
I started at Connico as a junior estimator, but my role included much more than estimating. After gaining extensive experience in estimating, onsite field inspection, and support with project controls, I was promoted to project analyst. Now, I consult in all areas of aviation construction projects for our clients.
What do you find most rewarding about your job?
I enjoy giving clients an outside, third-party look at their projects and helping them come up with solutions or identifying potential problems.
What advice do you have for those pursuing their PE licensure?
If you can take the exam early, which means you can sit for the PE exam before you've met the full requirements, do it! However, make sure you understand your state's rules about early testing and eligibility requirements.
How does Connico support your personal growth and development?
If there is a license, certificate or field of interest that you find interesting, Connico will ensure you are involved on projects with that type of work. The company also allows time for team members to take licensure and certificate courses.
What drew you to join the Connico team?
Initially, I enjoyed the personality of the team and how proud they were of the work they produce. Ultimately, I picked Connico because they were a small company looking to grow, and I wanted to be a part of that exciting experience.
What's your favorite travel destination?
Any national parks – especially ones in the Northwest!