Insights
Fostering growth: The transformative influence of mentorship and collaboration on small businesses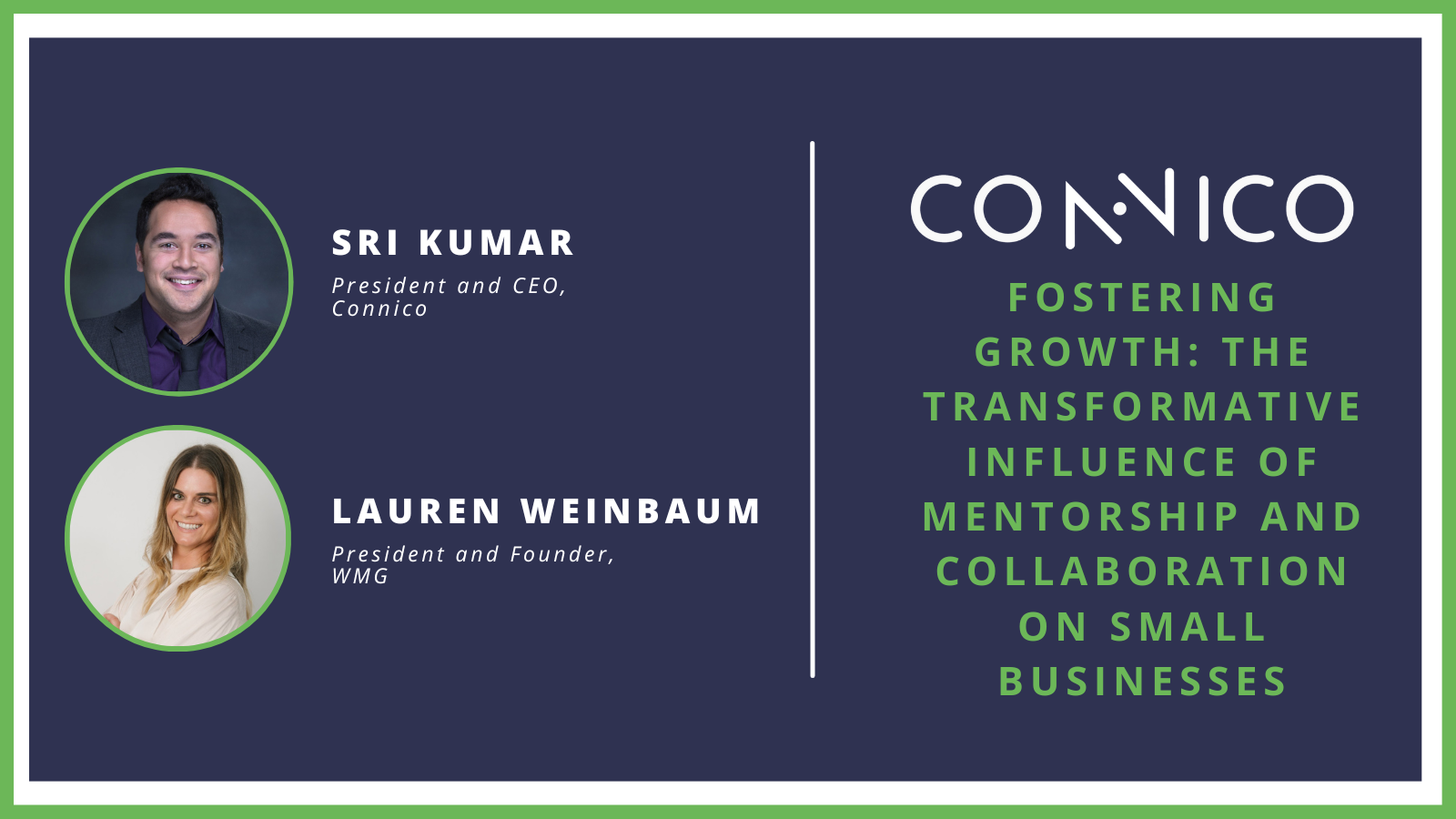 When's the last time you sat down with a competitor and told them what your company was planning for the future? For Connico CEO Sri Kumar, it was very recently! In fact, Sri has had ongoing meetings with other like-minded small business leaders in the industry, such as WMG's President Lauren Weinbaum. Connico has kept up this practice for many years, meeting to collaborate on best practices, industry trends, and the future of the construction workforce.
Small businesses play an essential role in driving projects forward and ensuring smooth and timely deliveries. Whether serving as subcontractors hired to help manage schedules and maintain timelines, representing the needs of the owner, or watching out for the integrity of the project as a whole, small businesses keep projects (and the industry) running.
Although sometimes competitors in the concentrated construction industry, business leaders like Sri and Lauren have found there are many benefits to working together instead of fighting for business or talent. They recently sat down to record a special podcast episode in which they discussed their backgrounds in the industry and the importance of networking and mentorship. Throughout the discussion, they highlighted some of the challenges faced by small businesses, the advantages of working at or partnering with small businesses and the importance of collaborating with and learning from one another.
This being their first podcast, both hilarity and reflection ensued. Listen to the full podcast and read through some of their insightful takeaways below.
Mentors outside your company provide fresh perspectives
Sri Kumar: We know internal mentorship programs can be incredibly effective. But, when you look outside your company, there are opportunities for learning, especially because that's a third-party perspective. You're getting somebody who's not influenced by the culture at your company.
One thing that you and I are doing, Lauren, is we're not trying to reinvent the wheel. If you've got something that you want to find out, or I have a question about "How does this business run?" or "What is the strategy we're using to tackle something?", we'll talk it out rather than trying to figure it out on our own and only using the resources inside our company.
Obstacles like exclusivity agreements can harm small businesses
Lauren Weinbaum: Being a small business owner, there are challenges I struggle with, and I feel like I don't have anyone else to talk to without our collaboration meetings. For example, there was a large pursuit coming out at an airport, and there were 11 general contractors going after it. A couple of the general contractors decided to pursue it early, and they asked us to sign an exclusivity agreement – and we did. I regretted it so much because after we signed the exclusivity agreement, the bid terms changed… and when a bunch of other contractors came forward and wanted to partner, we lost out on that opportunity as a small business.
At the end of the day, with a company like ours where we're providing support services and don't have the primary profile on the resume, especially when we have a one-in-11 shot and our team is not the deciding factor - it really hurts us.
Small businesses allow for a more well-rounded experience
Sri Kumar: When you work at a small firm, you really get to prove yourself for what you're worth… there are many things that we can offer as a small company that big companies cannot. We don't have as much red tape; we have more opportunities. We'll get you training. We'll get you learning. We'll get you classes, certifications, webinars, conference experience and industry exposure. Small companies can do that. And this ties, frankly, into a bigger point, which is that so many times people say the word "small business" and already they're thinking "lesser." Small, even just in our language, often means less. We may think of it as lesser, but small doesn't mean disadvantaged.