Insights
Creating Success: An AviationPros Podcast interview with Connico's President & CEO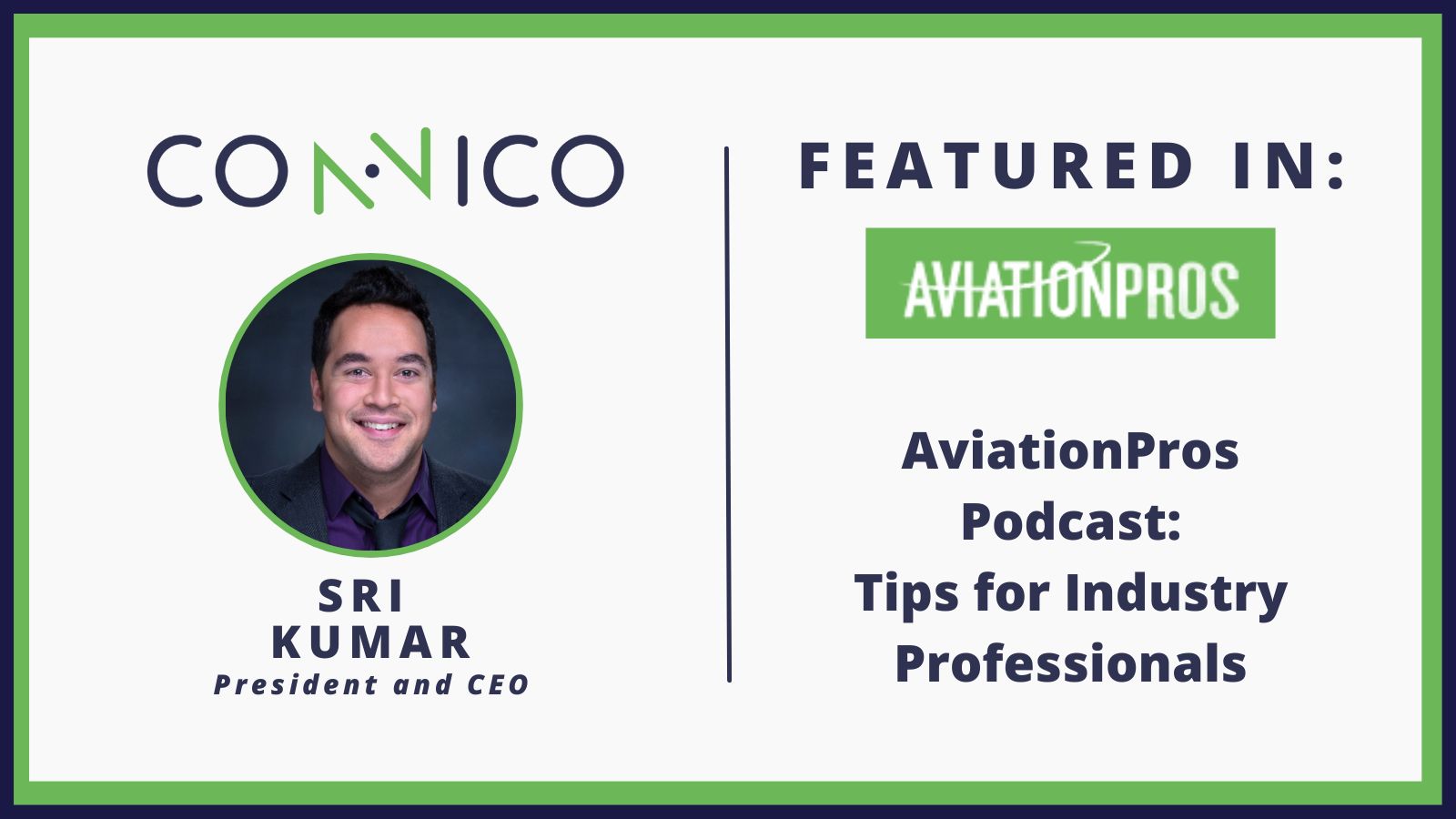 Sri Kumar joined the Connico team in 2011. In his 12 years at the company, he has earned many achievements, from a key role in Connico's leadership team to being named an Airport Business 40 Under 40 recipient. In the past year, he has grown his relationships and experiences to become the CEO and President of the company.
He recently sat down with the AviationPros podcast to reflect on his unique story and share advice for other industry professionals in the aviation industry looking to pave their paths to success, including the importance of mentorship, a growth mindset and gratefulness. Listen to the full podcast and read through some of the highlights below:
What made you want to be part of the aviation industry?
I was always interested in math, science, construction equipment and big machines, so when I found out there was an opportunity to work on projects that had this major impact, I was intrigued to go down that path. Frankly, I'm still in awe every time I go out to one of our job sites and see the airplanes running around and the airports operating like cities of their own. I'm just thrilled to be in the aviation industry in the first place.
Prior to becoming CEO and President at Connico at just 32 years old, you were the youngest employee at Connico asked to join the leadership team in their over 30-year history. How did you set yourself up for such a successful career?
Our former President and CEO, Connie Gowder, trusted me to fill both of those highly prominent roles. Setting yourself up for success is partly finding a mentor and coach, like Connie, who trusts you and is willing to push you, let you take risks, have your back if you fail, and be willing to answer your questions.
You also have to have the ability to learn outside your company. One thing that I did early on was get heavily involved in the industry and found mentors who worked for other companies. If I was stuck in a tricky situation, I could call those mentors and have an unbiased forum with few repercussions as compared to calling someone in my company where maybe I couldn't talk those things through. Having a circle of mentors who guide you in different topics is key to taking on these leadership roles.
As you know, the path to a successful career is not always an easy one. What challenges have you faced, and how did you overcome them?
Like a lot of people, I have a long list of challenges. I grew up in a single-family household. My dad emptied our family's bank accounts when I was eight years old, and my sisters were five and three, and we have not seen or heard from him since. That's a part of my childhood that I think not a lot of people know about, but it definitely impacted how I went to school as well as my home life. I'm gracious to my mom and family every day for supporting each other through that challenge.
One of the interesting things about that is people ask, "well, wasn't that tough?" And the answer is yes, but I'm thankful for it every day. It's tough to remember to be thankful for the challenges we have the opportunity to face and then overcome. It's those challenges and tough events – especially in our personal lives – that show us who we really are. They give us the opportunity to flex what's best about us and improve what we think needs improvement, and how we overcome those challenges paints the picture of who we are going to be. So, while I've faced many challenges, I encourage people to be thankful for their own and the people who have helped them through those challenges.
How do you see Connico being a valuable pillar in the industry, and what are your goals to do that?
As a small company, we have the opportunity to do some unique, experimental things. While we could focus our value on having the most accurate numbers or excellence in workmanship – which are among our values – I think one of the key things we will bring to the industry is altering how we approach work, in our own way.
It's no secret that at Connico we are 100% focused on our employees. We're giving them the best tools, resources, exposure and experiences – everything each individual person at our company needs to get where they want to go professionally. Every single person, no matter the stage of their career journey, has a career path ahead of them. They each have career objectives and room for growth. Even someone who has been in the industry for 35 years has a career path – their career path and goals might include retirement, but they still have a goal they want to reach.
At Connico, we're making sure everyone at every level is empowered to be able to meet their career goals. As a CEO and a leader, you feel that weight, and you feel responsible to help your employees reach not only their professional goals but their life goals as well. So right now, we remain dedicated to our employees.
We also remain dedicated to our clients. We answer every phone call, we meet tight deadlines, every member of our team is someone you can trust to give you what you need and we are able to show people in this industry what commitment means. I think that's something other organizations are picking up on and can generate their own value from as well.
You have a passion for growing DBE and minority-owned business participation within the aviation industry. How do you want to grow that inclusion, and what value do you see in growing that in airport improvement projects?
My friend and mentor, Jason Singleton, who works for a company called Freedom Industries, likes to say, "diamond sharpens diamond." So often, we think it is up to big companies to generate DBE participation. But, we have this responsibility as a DBE to lift up other DBEs.
I do want to touch on the fact that we live in an era where the federal government is willing to label a business that is owned by a minority or someone who is female or a veteran as 'disadvantaged.' I don't agree with that terminology at all. What we've seen is: having diversity of thought and leadership is actually an advantage. But, since that's the world we live in, the onus is on us to support each other in addition to sharing the value of DBEs beyond their status.
There are plenty of partners out there that are willing to uplift DBEs, and I think the value of having different minds, voices and perspectives at the table is clear. When you get more voices, you gain more perspective, which reduces the challenges you face down the line and enhances the quality of what you deliver. Along the way, the diverse perspectives give you the opportunity to do things like reduce the cost of a project, deliver it quicker and more. The value of diversity almost speaks for itself, and we as a DBE firm, other DBE firms and the big firms have a responsibility to grow and foster inclusion.
Do you have any other advice you'd like to share for emerging leaders?
I encourage you to build trust at your organization, regardless of your position. All your actions need to move toward that trust-building. That's a lesson I learned very early on. It's very hard to implement, and it's something I'm still working on doing.
At the end of the day, I want to quote another friend and mentor, Matt Wenham at C&S. One day he told me, "remember to take time to be human." I think so often we think, especially in a fast-paced industry, we are identified by our job or our job title, or our lives are consumed by whatever it is that we do and then it consumes our identity. Hard work is great, and it's a key element to getting where you want to go, but this industry is about human beings and improving the lives of human beings, and as a result, the industry is really about relationships. No matter what level you're at, it's absolutely critical that, even when things are busy, you take the time to be a human being.