Insights
Connico Cares: How investments in employee development made me a better professional and person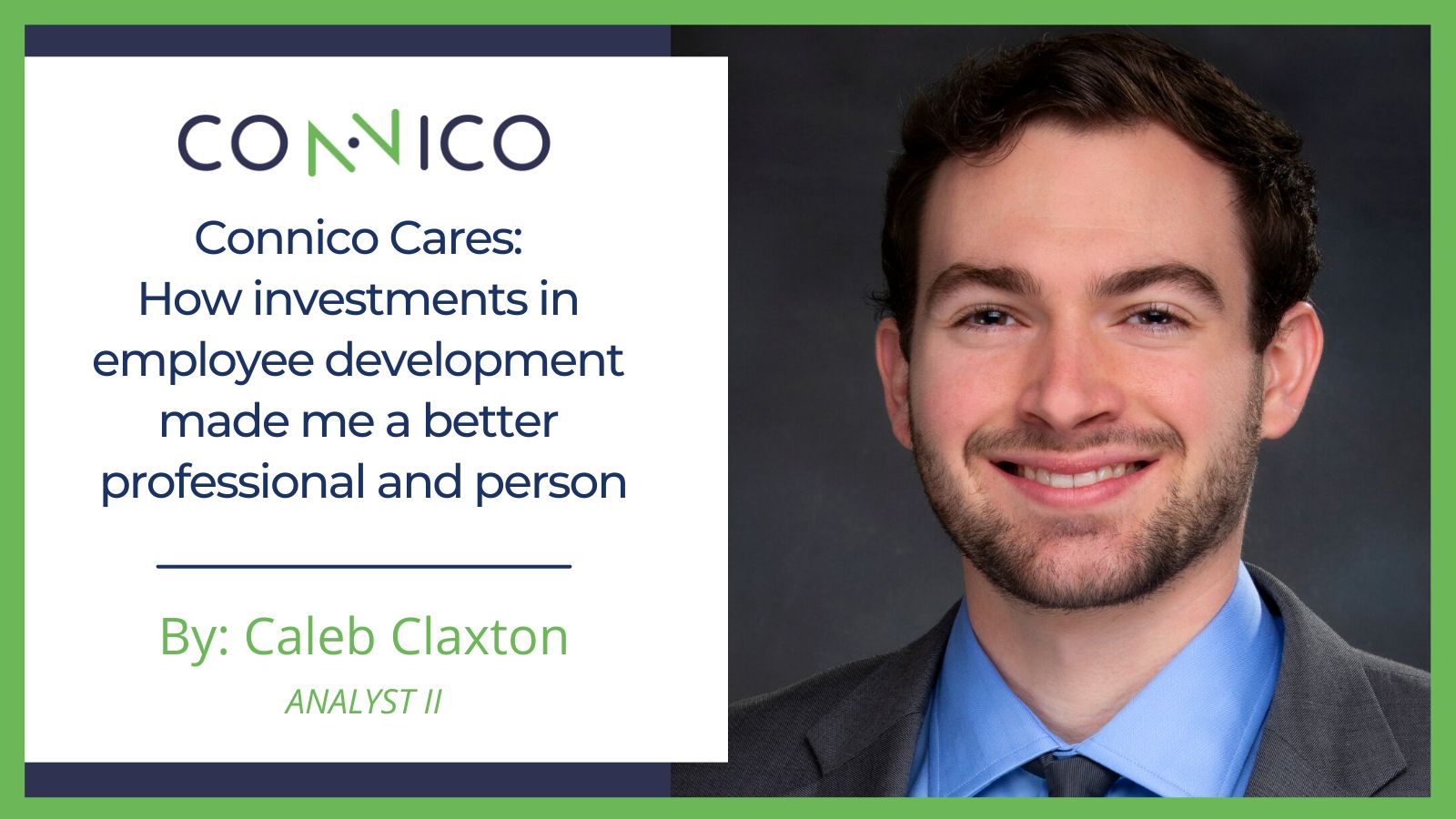 This has been a big year for me. First and foremost, I was blessed with the birth of my first child. Becoming a new father made me reflect on my life as I took on this huge new responsibility. Do I feel prepared? Do I have what it takes to care for a tiny human? Questions like these filled my mind leading up to my daughter's birth.
This year also marks my five-year anniversary with Connico. As I reflect on the past few years, I realize my time at Connico has pushed me to become a better person both professionally and personally. The skills I've developed within my role at Connico have carried over into my role at home, helping me become a better father than I could have ever imagined.
Connico cares about your opinion
From your first day at Connico, you're told that your opinion matters. Whether you are a current college student, a recent graduate new in your career or an industry veteran, you are encouraged to share your ideas. Every year at our annual meeting, we discuss ways to improve the company, and I've personally seen interns give insightful recommendations that are received by the leadership team and implemented into daily practices.
We also hold monthly one-on-one sessions where each employee is given the opportunity to mention areas for improvement or share new ideas for both ourselves and the company. Connico values the opinion of each individual and heavily invests in the development of every employee. We are encouraged to continually improve, innovate and grow in order to create the best work environment, and the company reinforces this through its commitment to our personal and professional development.
Connico cares about your professional development
I've also seen growth over the years through my involvement in professional organizations. I've been a member of a number of industry organizations, including the National Society of Professional Engineers (NSPE), American Society of Civil Engineers (ASCE), Airport Consultants Council (ACC) and American Association of Airport Executives (AAAE). Currently, I serve as the president-elect for the Northern Kentucky Chapter of the NSPE. Previously, I served as the chapter's vice president, a director, and on the first-ever STEM grant committee where we awarded grants to STEM programs at local high schools. Throughout all of these roles, I've learned how to engage thought leaders in speaking opportunities, issued PDH certificates to attendees and helped manage the many facets of running a local chapter of one of the largest national organizations for engineers.
Connico has also provided me the opportunity to attend a number of engineering and aviation conferences across the nation, all of which have allowed me to grow my network and meet some of the most experienced people in the industry. The connections I've made at conferences and within
professional organizations have helped me become an established member of the industry. As an engineer and cost estimator, I'm constantly keeping an eye out for changes in the market. The people I've met have provided many different perspectives and resources, which have expanded my knowledge and allowed me to grow in my career. My connections and growth have enabled me to also become a mentor for others in the industry, providing career guidance and advice on current market conditions.
Connico cares about your growth
Outside of professional organizations and conferences, Connico has encouraged me to take on roles with more responsibilities within the company, such as overseeing the construction of over 200,000 square yards of airfield pavement in a single construction season. Looking back, it's unbelievable how much I've grown as a leader since beginning my journey at Connico, and it wouldn't have been possible anywhere else. The support and trust that comes from our leadership team help foster an environment of growth and learning in all aspects and at all levels of our careers.
While I'm learning something new every day, some of the most impactful skills I've learned at Connico include critical thinking, emotional intelligence, confidence and overall management. After only two years at the company, I was trusted to train our first intern. Now, five years later, I've assisted in training seven employees at Connico. I love watching our new employees develop into experienced professionals and blossom into exceptional people, just as I have been able to do.
I can't thank the incredible team at Connico enough for recognizing my worth, investing in my growth and always pushing me to excel. As I hold my four-month-old and reflect on my journey at Connico, I realize I have what it takes to be the father she deserves thanks to the skills I've developed through the investments my company has made in my growth.
Caleb Claxton is an analyst II and engineer in training at Connico. He can be reached at jcclaxton@connico.com.